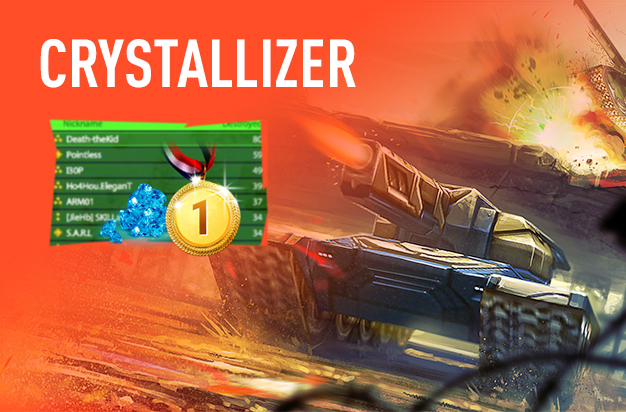 Tankers!
The Iron Days is coming up, with its sackful of discounts, bundles, 2X funds, special events, decorations and more.
But you want more, so here it is!
During the three days of the Iron Days event, participate in the Crystallizer Contest and win cool prizes.
To participate, get the biggest chunk of the fund in a matchmaking battle, take a screenshot of the battle results screen (fullscreen with nickname visible in the game interface and system date and time stamp.=) and send it to us through the special form.
IMPORTANT: Only screenshots taken and sent during the period between 02:00 UTC on Friday, February 21st 2020 and 02:00 UTC on Monday, February 24th will be accepted.
The best bit? Every valid entry will be getting a prize, with some really cool rewards for the top 10.
Here's the full list of prizes
1st Place — 23 000 Crystals, 23 Containers, 500 Tankoins
2nd Place — 20 000 Crystals, 20 Containers, 400 Tankoins
3rd Place — 15 000 Crystals, 15 Containers, 300 Tankoins
4th–5th Places — 10 000 Crystals, 10 Containers, 200 Tankoins
6th–10th Places — 5 000 Crystals, 5 Containers, 100 Tankoins
Additionally, all valid screenshots that do not qualify for the top 10, will be rewarded with a participation prize of 2000 Crystals*.
We'll also be having a giveaway** where you could win one of the following prizes.
Animated paint "Living armor";
500 tankoins;
"Blue" shot effect for Hammer;
"Electric" shot effect for Ricochet;
"Dark moon" shot effect for Twins;
23 containers;
23 weekly containers;
7 days of Premium Pass;
23 gold boxes;
23 000 crystals.
Results will be announced on Wednesday, February 26th, during the day.
Terms and Conditions
*The participation prize does not accumulate with the top 10 prizes.

**All valid entries are automatically entered into the giveaway. Prizes and winners will be drawn randomly.

1 player – 1 screenshot. If for some reason you submit multiple screenshots, only your first submission will be accepted. Therefore, we recommend that you play, accumulate screenshots, choose the one with the maximum number of crystals, and then send it to us before the deadline.

Your screenshot must be full screen and show your nickname in the game interface as well as your system date and time stamp.

This contest is subject to the game's EULA and General Contest Terms and Conditions.
So go out there and start raking in those crystals, tanker. Let's see who'll get the biggest fund!
Discuss in the forum