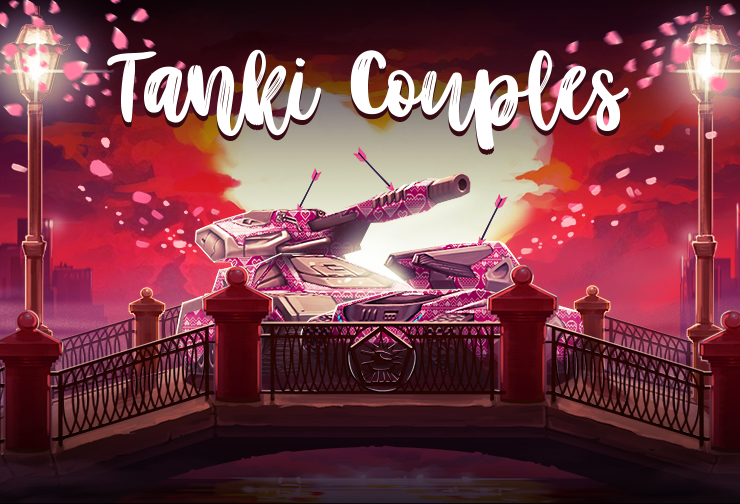 Hello, tankers!
Many couples around the world celebrate Valentine's Day on February 14th by giving their loved ones bouquets of flowers, presents, and valentines. We also don't want to stay away from this amazing holiday, and we highly recommend you celebrate Valentine's Day with the traditional «Tanki Couples» contest!
This romantic contest is not only a great opportunity to win cool prizes, but also a great opportunity to confess your feelings to each other.


Send love notes to your significant other and invite them to participate in the contest together! Read all the details below!
Requirements for participation
Take a full screenshot with your soul mate (fullscreen with both nicknames visible and system date and time stamp). Both participants should have the festive Valentine's Day paint equipped

Upload it to the imgur.com image hosting service (read more about how to upload images here).
Send us the link via this special form.
IMPORTANT! A player can only be in one pair, and only one screenshot will be accepted from each pair. If there is a nickname in a pair of a tanker who has already participated in the contest earlier, with another pair, the second pair will be disqualified.
Prizes
100 players that meet the requirements of the contest will be chosen randomly and will get 140 stars (the total number of players to get stars is 200). It will help you reach the desired prizes of the «YouTuber Battle» event and even complete two levels of the Challenge!
In addition, among all the participants in the contest, we will randomly select several more couples. The lucky ones will be able to receive one of the following prizes:
Animated paint «Loving Camo»
500 Tankoins
Isida's «Sun» Shot effect
Firebird's «Pink» Shot effect
Striker's «Violet» Shot effect
14 Ultra Containers
14 Containers
4 days of Premium Pass
14 gold boxes
14 000 crystals
Dates
Deadline for submissions is February 13th, 11 AM UTC.
Results will be published on February 13th during the day.
The contest is held in accordance with the General Rules for Promotions and Contests (https://tankionline.com/en/general-rules-contests-promotions/).
Love to all the participants!
Discuss in the forum