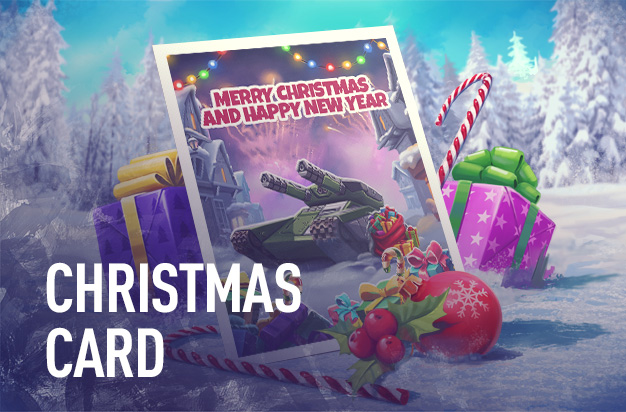 Hello, tankers!
As you know, the best gift is a handmade gift. Crafts and postcards created by us personally are made from the heart, and our souls are invested in them.
That's why, in anticipation of the upcoming Festive season, we are delighted to invite you to create your very own greeting card. 
The artworks are split into two categories:  
Digital cards: Create your holiday greetings card in an image editor or create a 3D model with the help of specialized programs.
Physical cards: Draw your holiday greetings card on a piece of paper or make a model of something with handy materials.
Important! The artwork should only relate to «Tanki Online», and should celebrate the New Year's holiday!
Doubly important! While working, be sure to indicate your in-game nickname and the year: «2022».
So, in order to participate in the contest, you need to:
Choose one of the two proposed categories and create a postcard.
Take a photo of the postcard and upload it to the imgur.com photo hosting service.
Send us a link to the artwork through a special form, indicating your nickname and the category you chose.
In each category, we will select the top 5 best artworks and award them with cool prizes:
1st place: 30,000 crystals, 1,000 tankoins, 30 containers and any skin of your choice (XT, Legacy, Ultra).
2nd place: 25,000 crystals, 900 tankoins, 25 containers and any animated paint available from containers to choose from.
3rd place: 20,000 crystals, 800 tankoins, 20 containers and any shot effect of your choice.
4th place: 15,000 crystals, 700 tankoins and 15 containers
5th place: 10,000 crystals, 600 tankoins and 10 containers
Each prize winner will receive an additional prize of 220 stars for the challenge.
Honourable mentions that do not make it into the top 5 will receive a consolation prize of 220 tankoins and 5 containers.
Dates
Holiday postcards are accepted until December 29th, 15:00 UTC.
The results will be announced on December 30th during the day.
The contest is held in accordance with the General Rules for Contests and Promotions.
Go impress us with what you can make! We wish you the best of luck!
Discuss in the forum