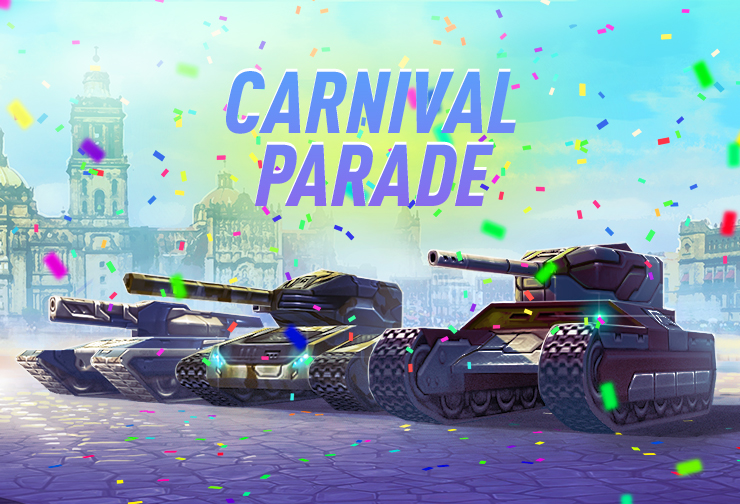 Hello, tankers!
Carnival is one of the brightest holidays. We invite you to join the fun and take part in the «Carnival Parade» contest.
How to participate
Enter the game
Take a screenshot (read the requirements below)
Mention nicknames of all tankers in the screenshot
Upload the screenshot to Imgur photo hosting (imgur.com)
Send a link to your image via the special form.
Entries will be sorted into two categories
The most massive parade — to win in this category, you need to have as more tankers in the screenshot as possible. Out of entries with the highest number of tanks we will choose the most creative ones.

The most extraordinary screenshot — number of tanks in the screenshot is not the most important part. Use your imagination and creativity at full capacity. The more bright your screenshot is, the more different colours and paints are in it, the higher are your chances to win!
Specially for this event, starting from 13:30 UTC, August 13 till 15:00 UTC, August 20, we will increase the maximum number of players able to join the «Rio» map to 40! Well, you may choose another map for your parade but we think that Brazil and Rio are directly connected to the Parade topic.
Prizes
In each category, we will choose the best entries and reward every tanker in the chosen screenshots with the following prizes:
1st place: 150 tankoins and 10 containers;
2nd place: 120 tankoins and 7 containers;
3rd place: 100 tankoins and 5 containers.
Once again, if your team wins, every participant will get the reward. Make sure to write the nickname correctly in the form.
Honourable mentions that do not make it into the top 3, in case there are so, will receive a consolation prize of 3 containers to each member of a team.
The deadline to submit is 15:00 UTC on August 20th.
The results will be published on August 23rd during the day.
If you want to participate in this contest you must agree to our General Rules for Contests and Promotions.
Stay tuned and good luck!
Discuss in the forum