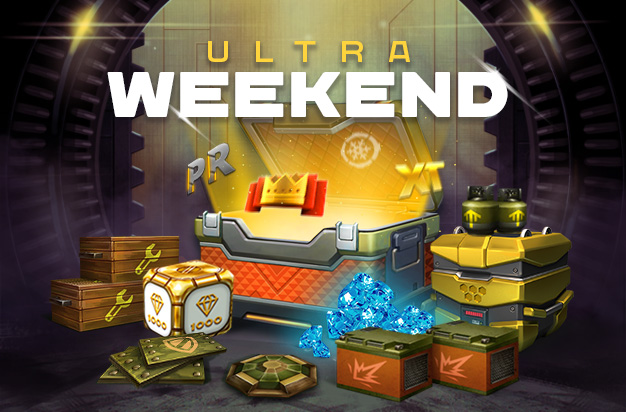 Event: Ultra Weekend December 17th – 19th
Duration: 3 days
Starts: Friday, December 17th
Ends: Monday, December 20th
Important note: Unless otherwise stated, all events and activities start and end with the server restart at 02:00 UTC.
Tankers!
We are happy to announce that the upcoming Friday, Saturday, and Sunday will be ULTRA!
There will be a special mode, special missions, boosted funds and experience, Coinboxes and Ultra Containers, 2 valuable special offers, and a themed design.
This Ultra Weekend will start on Friday, December 17th, at 2:00 UTC, and will last until Monday, December 20th, at 2:00 UTC.
Special mode
We've prepared a new special mode for you. We know how much you liked the previous Classic Mode. In the Sports Mode, the level of your turret upgrades does not affect the game at all, but the gameplay is supplemented with Overdrives. Feel like real eSports players; play and share your impressions in the comments.

Mode: CTF
Map: Sandbox Remastered
All turrets and hulls have the same Mk7 modification
Protection modules: OFF
Drones: OFF
Micro Upgrades: OFF
Overdrives: ON
Battle time: 12 minutes
Number of players: 6v6
Gold boxes: OFF
Ultra containers
Of course, you can't forget about Ultra Containers, which you can earn for completing various special missions as well as purchase from the Shop.
Here are some of the epic prizes you can get from these containers:
The new Twins' augments: «Magnetron», «Vaporizer», and «Cryotron»
The luxurious XT skin for Ares
Exclusive Ultra skins for Thunder and Hunter
Animated «Cathode Ray Tube» paint;
Vulcan's «Mysterious Red» shot effect
Gauss's «violeNt» shot effect
The famous «Crisis» drone and «Armadillo» module
Other prizes obtainable from common containers
Coinboxes
As usual, Coinboxes will be available for purchase in the Shop during the event. If you are lucky enough to get 100 000 Tankoins out of them, share a screenshot on the forum!
There are other cool rewards from these containers too; make sure to check them out on the Wiki.
Special missions
You can never have enough Ultra Containers. Complete the special missions to get them and… stars!
Supermission: The best at everything!

Task: Complete «Medallist», «Bosses», «Driver», «Storm», and «Tornado» missions.

Reward: 7 Ultra Containers and 150 stars
Mission: Medallist
Task: Get into the TOP-3 of the winning team 1 time in any matchmaking battles.
Reward: 1 Container and 50 stars
Mission: Bosses
Task: Earn 9000 battle points in TJR mode in matchmaking battles.
Reward: 1 Container and 50 stars
Mission: Driver
Task: Use «Speed Boost» supply 330 times in any matchmaking battles.
Reward: 1 Container and 50 stars
Mission: Storm
Task: Destroy 130 tanks using light hulls (Wasp, Hornet, Hopper) in any matchmaking battles.
Reward: 1 Container and 50 stars
Mission: Tornado
Task: Destroy 130 tanks using medium hulls (Hunter, Viking, Crusader, Paladin, Dictator) in any matchmaking battles.
Reward: 1 Container and 50 stars
2 Special Bundles in the Shop
Got a keen eye for a great deal? Cool! We've created 2 special bundles that will set you ahead of the competition at really affordable prices.
These bundles will be exclusively available in the Shop for the duration of the festivities.
Special offer «Ultra Defense»:
15 Ultra Containers
1 unit of the «Nuclear Energy» supply
«Defender» Drone
300 units of the «Double Armor» supply
150 Batteries
Special offer «Radiation Protection»:
250 Ultra Containers
3 units of the «Nuclear Energy» supply
Paladin XT skin
«Paladin» Mk2
«Jammer Immunity» augment for Paladin
Boosted Funds and Experience
During the event, get boosted funds and experience for every matchmaking battle! This is a great chance to rank up faster and get access to new items that you haven't yet unlocked or to earn more crystals to upgrade your Garage with.
Themed Decorations
Throughout the 3 days of the event, we'll have themed decorations in the game:
A holiday-themed paint
Holiday-themed billboards on all maps
Special parachutes for drop boxes
Holiday-themed gold box skin and drop zone
So get ready to jump into the fray of blazing combat for three days starting with the server restart on Friday, December 17th.
Discuss in the forum