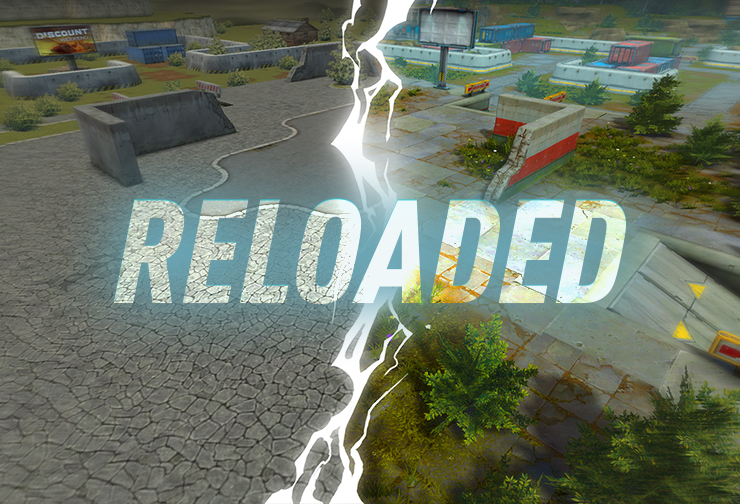 Event: Tanki: Reloaded
Duration: 3 days
Starts: Friday, October 15th
Ends: Monday, October 18th
Important note: Unless otherwise stated, all events and activities start and end with the server restart at 02:00 UTC.
Tankers!
This weekend Tanki will be reloaded! We have prepared something new and exciting!
There will be a special mode with the remastered version of the «Sandbox» map, special missions, boosted funds and experience, coinboxes and Ultra Containers, 2 valuable special offers, and a themed design.
Tanki: Reloaded will start on Friday, October 15th, at 2:00 UTC, and will last until Monday, October 18th, at 2:00 UTC.
Special mode
The remastered version of the «Sandbox» map will appear in the game!

You have a unique opportunity to play on the remastered map! We have created new assets and models for it. Read more about it here.
Mode: TDM
Number of players: 6 per team
Increased gold box rate
Map: Sandbox Remastered
Important: the map is only available in the PC version of the game. The special game mode is not available for Android players because we still need to optimize the map to let mobile players enjoy playing on it.
Ultra containers
Of course, you can't forget about Ultra Containers, which you can earn for completing various special missions, as well as purchasing in the shop.
Here are some of the epic prizes you can get from these containers:
The new support hovering «Paladin» hull;
The following Tesla's augments: «Endothermic lightning», «Armour-piercing discharge», and «Shocking lightning»;
Exclusive Ultra skins for Railgun and Thunder, as well as the luxurious XT skin for Ares;
The famous «Crisis» drone and «Armadillo» module;
Other prizes obtainable from common containers.
Coinboxes
As usual, coinboxes will be available for purchase in the Shop during the event. If you are lucky enough to get 100 000 Tankoins out of them, share a screenshot on the forum!
There are other cool rewards too; make sure to check them out on the Wiki.
Special missions
You can never have enough Ultra Containers. Complete the special missions to get them and… stars!
Supermission: Full Reload!

Task: Complete «Team Mode», «System Restoration», «Flow Accelerator», «Impulse» and «Transmission» missions.

Reward: 7 Ultra Containers and 150 stars
Mission: Team Mode
Task: Earn 5 000 battle points in the festive «TDM» mode.


Both: festive and common «TDM» modes are counted.

Reward: 1 container and 50 stars
Mission: System Restoration
Task: Use a repair kit 220 times in any matchmaking battles.
Reward: 1 container and 50 stars
Mission: Flow Accelerator
Task: Use «Speed Boost» supply 330 times in any matchmaking battles.
Reward: 1 container and 50 stars
Mission: Impulse
Task: Destroy 130 tanks using medium-range turrets (Smoky, Striker, Vulcan, Thunder) in any matchmaking battles.
Reward: 1 container and 50 stars
Mission: Transmission
Task: Destroy 130 tanks using light hulls (Wasp, Hornet, Hopper) in any matchmaking battles.
Reward: 1 container and 50 stars
Special Bundles in the Shop
Got a keen eye for a great deal? Cool. We've created special bundles that will set you ahead of the competition at a really affordable price.
These bundles will be exclusively available in the Shop for the duration of the festivities.
Special «Security Checkpoint» offer
«Camper» drone
150 batteries
300 repair kits
15 Ultra Containers
Special «Striker Pack» offer
200 Ultra Containers
Striker Ultra skin
Striker Mk2
Striker's «Armor-piercing missiles» augment
Boosted Funds and Experience
During the event, get boosted funds and experience for every matchmaking battle! That's a great chance to rank up faster and get access to new items if you haven't unlocked them all yet, or to get more crystals to upgrade your Garage.
Themed Decorations
Throughout the 3 days of the event, we'll have themed decorations in the game:
A holiday-themed paint;
Holiday-themed billboards on all maps;
Special parachutes for drop boxes;
Holiday-themed gold box skin and drop zone.
So get ready to jump into the fray for three days of blazing combat starting with the server restart on Friday, October 15th.
Discuss in the forum