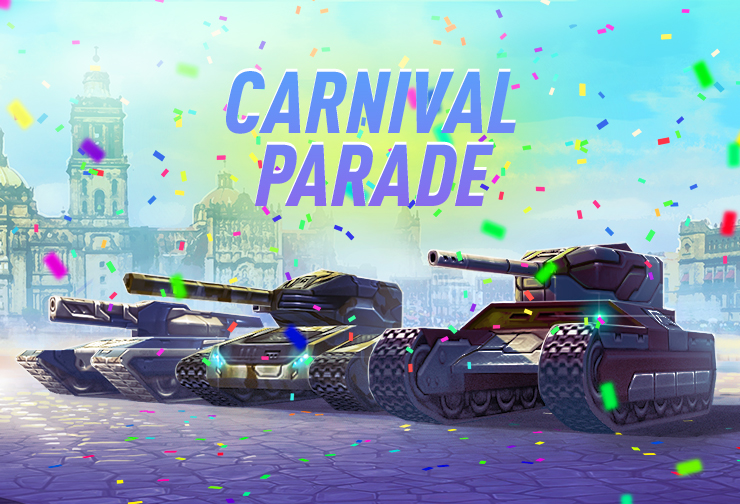 Tankers!
The Carnival Parade contest has come to its conclusion. Here are our winners.
Congratulations and thank you all for participating. Hope you had fun! 🙂
As promised, we've awarded prizes in two categories.
The most massive parade
1st Place
Lightshot, Desi, th3ace, excelencia, LSHTV, waisper, mr_wilz, mart0_bs, SPARTAN_305_PRO, translate, black.listed, ksksndndn, Tank-100, Ghost_animator_89, dude_perfect, k.l.e.r.c.h.e
2nd Place
Lugia, Dynasty, Oliver_Control, Noice, Quello, babka401, 3eeK, Conquis, Quo, Exorcist, H3R3, QnA, Tyson, Dumbledore6969, Audition, I.Legend.I
3rd Place
chinufire1, cosmooss, Disimulation, Perks, MrBlood, Demonic.King, joshGTO, The_lol_skretcher, TheThunderKing, 69Baby, Aravharish_RT, ASAP, r_freeze_m12, Beraz, M.v.M
The most extraordinary screenshot
1st Place
UYU.Puma , l3eblueto, zeus12, K4n, Excelencia, junior_el_PRO, BIG_roberth14, MohaDead, Luis367, Bubble, josueabraham1999, EXO-TANKER, Oussama08
2nd Place
artc, King.David, theflamingo, i.Painfull, Shredini, skill_from_killer, Seraphina
3rd Place
Lightshot, Arcade, LSHTV, Clasher123_the_best, kostas0_pro, BIG_roberth14, lnfinity, Drop.Nation, rozana, Mr.LiceGuy, Translate, Strikey, alejandro2, Diesel888_RTL, zeus12, Benardo
Well done everyone and thank you all for participating in Carnival Parade!
The prizes will be sent out tonight, on August 30th.
Discuss in the forum