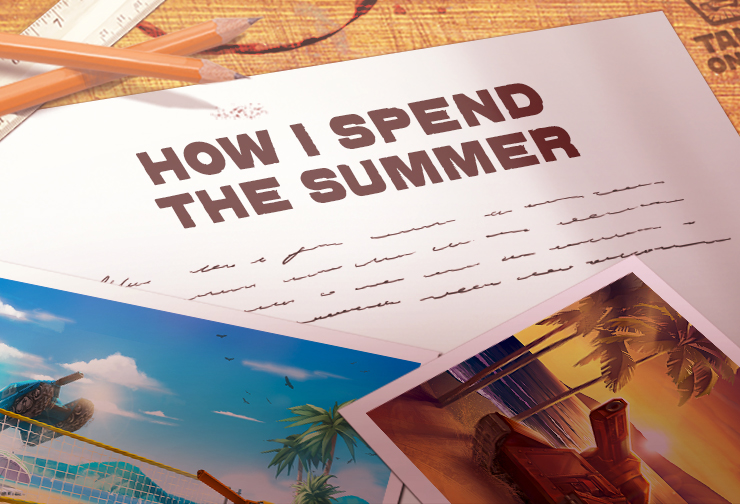 Hello, tankers!
Summer is the best time to show your creativity. We always enjoy reviewing your game-related artworks, so we are happy to announce a new contest which will let you get magnificent rewards for your artwork — «How I spend the summer»!
Your task is to take a photo showing how you enjoy spending time this summer together with Tanki Online. This is a wonderful opportunity to show off your skills and creativity! Write something in the sand or maybe using rocks or fruits, make a sand sculpture, or anything else you find beautiful.
To stay out of trouble and to stop others from stealing your artwork, there are some rules to follow:
You have to write your in-game nickname as well as the contest name and the current year physically on your artwork (the easiest way to do it is to write it on a piece of paper and place it near your artwork)
Take a photo of your artwork
Upload your artwork on an image hosting site like imgur.com and send a link to the page with your artwork on imgur.com to us via this special form.
Authors of the best entries will get the following rewards:
1st place — 100 000 crystals, 100 Containers and 1000 Tankoins
2nd place — 80 000 crystals, 80 Containers and 800 Tankoins
3rd place — 50 000 crystals, 50 Containers and 500 Tankoins
Honourable mentions that do not make it into the top 3 (if there are any that qualify) will receive a consolation prize of 15 000 crystals, 200 Tankoins and 10 Containers each.
The deadline for submissions is 15:00 UTC on August 27th.
The results will be published on August 30th during the day.
If you want to participate in this contest you must agree to our General Rules for Contests and Promotions.
Stay tuned and good luck!
Discuss in the forum