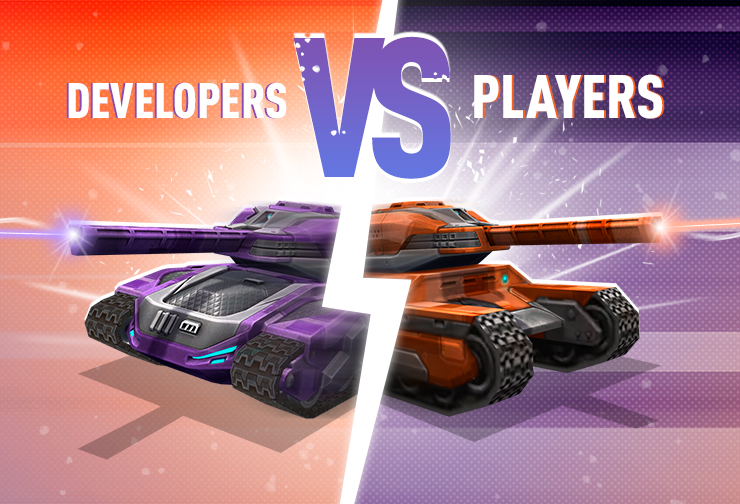 Hello, tankers!
It's time to take part in an awesome fight of epic proportions! Are you ready? We are!
What: Developers VS Players battle.
When: July 30th 17:00 UTC.
Where: The «Bridges» map, 7v7, XP/BP format, no supplies, no bonus boxes.
You cannot miss it!
Sign up to take part
Go to the special website right now and apply to take part in this battle. The registration closes on July 28th at 13 UTC.
Important:
Sign up doesn't guarantee that you will take part in the battle;
The minimum rank to apply is Major;
You can only sign up once.
In the evening on July 28th (the exact time will be announced later), we will use a randomizer to choose 14 players to take part in the battle (7 main players and 7 substitutes). After that we will contact the players on this special website and will give them further details. We will choose substitute players in case some of the main players can't make it to the battle.
Be aware that by signing up, you confirm that you are ready to take part in the battle at the announced time with no delays.
The battle will be held on July 30th at 17 UTC and there will be a livestream on our official YouTube channel for those who were not chosen as main or substitute players.
I haven't been chosen. What should I do?
You can support a team by purchasing one of the following paints: «For developers» or «For players». When you buy one of them, the other becomes unavailable to purchase. The paints will appear in the Shop tomorrow, after the servers restart on July 16th at 02:00 UTC, and will be there till July 30th 15:00 UTC. Each paint costs 300 Tankoins. The paints will remain in your Garage after the event as a reminder of this rare event!
Participants of the battle will equip these paints during the battle. If developers with the «For developers» paint win, players who bought the «For developers» paint will get 600 Tankoins. If players with the «For players» paint win, players who bought the «For players» paint will get 600 Tankoins.
If you want to participate in this event you must agree to our General Rules for Contests and Promotions.
Prizes for participants
Of course, we have also prepared prizes for those lucky tankers who will be fighting against the developers.
1. 1500 Tankoins to all 14 players chosen by the randomizer*.
2. Fully upgraded modification of the «Tesla» turret available for a player's rank if players team wins**.
*1500 tankoins will be added only if a player is available during the battle time, playing in the battle or being ready to join as a substitute at any time during the battle. The exact time when a player should be available to play will be announced to chosen players later.
**If you already have Tesla, you will be able to choose another turret or hull fully upgraded and available for your rank.
We haven't held an event like this for a while so we would love to get your feedback! Moreover, during the next 2 weeks, we will announce the roster of the developers team and other details so stay tuned!
Discuss in the forum