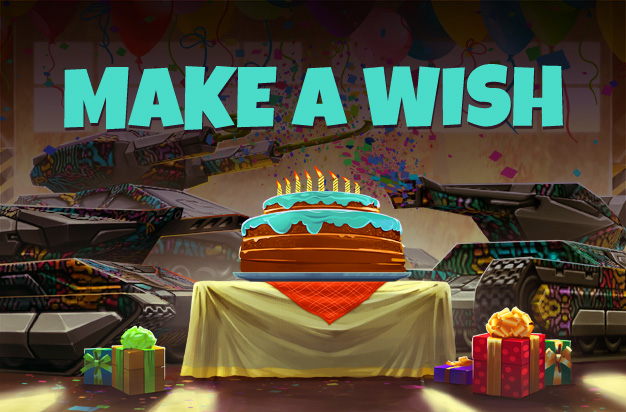 Hello, tankers!
Birthdays are everyone's favourite day in the whole year. Today, we are celebrating Tanki Online's birthday and we are very happy that thousands of players all around the world are joining the celebration. We have just turned 12!
In honour of this, we suggest you send your wishes to Tanki Online and blow out the candles on our digital birthday cake.
The brightest and most positive wishes will definitely come true!
What you need to do:
Starting from now and till June 7th 02:00 UTC the special website with our birthday digital cake is available for you
Log in with your Tanki Online account username and password.
Write your wish for your favourite game.
Blow out the candles on the cake (click on the cake). Remember your wish and don't tell others or it might not come true!
Prizes
On Tuesday, June 8th, we will hold a giveaway among all the contest participants with the following prizes up for grabs:
12 Containers
1012 Tankoins
12 Gold Boxes
212 Stars
12 days of Premium Pass
512 Batteries
12 000 Crystals
We will give away 5 units of each prize! So 5 players will get 12 containers, another 5 will get 1012 tankoins and so on.
Tanki Online's birthday is also your holiday! So make sure to enjoy its celebration properly 🎉
Discuss in the forum