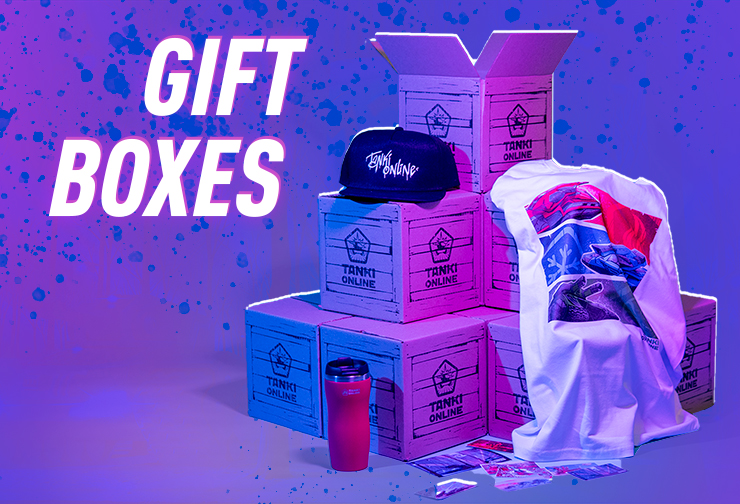 Hello, friends!
In honour of Tanki Online's birthday, we have prepared something special for you!
Gift boxes with Tanki merch! In each box there will be a t-shirt, baseball cap, travel mug, postcard and stickers.
We only have 12 boxes so only the most loyal, tenacious, and lucky tankers will get them!

Every day starting from May 28th 02:00 UTC till June 14th 02:00 UTC, pre-completed special missions will be available in the game. You just need to claim your reward. If you do not miss a day and will claim rewards from all the 17 missions, you will complete the special «A Mountain of Gifts» supermission and will become a participant of the gift boxes giveaway.
IMPORTANT: Missions can appear at any time of day, and you will only have a day to claim rewards. If you get a mission on May 28th at 09:00 UTC you need to claim rewards before May 29th 09:00 UTC. Otherwise, the mission and its rewards will disappear and so will your chance to win a gift box.
In addition to the gift boxes, we will also give away 5 of the newest «Tesla» turrets. The winners of the giveaway will be the first to check out the new turret and enjoy being the only ones who have it.
The giveaway will happen during our special livestream on our YouTube channel on June 18th. We will share a link to the livestream later.
The contest is held in accordance with the General Rules for Promotions and Contests(https://tankionline.com/en/general-rules-contests-promotions/).
The birthday is ours, and the presents are yours 🙂 Happy Tanki Birthday!
Discuss in the forum