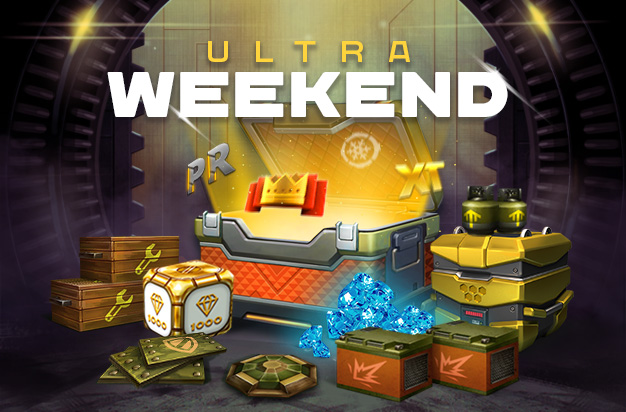 Event: Ultra Weekend April 23rd – 25th
Duration: 3 days
Starts: Friday, April 23rd
Ends: Monday, April 26th
Important note: Unless otherwise stated, all events and activities start and end with the server restart at 02:00 UTC.
Tankers!
We are happy to announce that the upcoming Friday, Saturday, and Sunday will be ULTRA!
There will be a special game mode with Wasp and Smoky, special missions, boosted funds and experience, Coinboxes and Ultra Containers, a valuable special offer, and themed decorations.
This Ultra Weekend will start on Friday, April 23rd, at 2:00 UTC, and will last until Monday, April 26th, at 2:00 UTC.
Special game mode
Starting from Friday, April 23rd, at 2:00 UTC, till Sunday, April 26th, at 2:00 UTC, play in a fun special mode with Wasp and Smoky. You will be able to enter the game mode with a special matchmaking queue button.
Everything will be equipped automatically, so everyone will be equal. Only skill and tactics will help you!
The game mode will be in CTF mode on the «Short Bridge» map with 4 players per team.
Boosted Funds and Experience
During the event, experience and battle funds will be boosted! That's a great chance to rank up faster and get access to new items if you haven't unlocked them all yet or to get more crystals to upgrade your Garage.
Coinboxes
As usual, Coinboxes will be available for purchase in the Shop during the event. If you are lucky enough to get 100 000 Tankoins out of them, share a screenshot on the forum!
There are other cool rewards too; make sure to check them out on the Wiki.
Ultra Containers
Of course, don't forget about Ultra Containers, which you can get for completing various special missions, as well as purchasing them in the shop.
From Ultra Containers, you can get the following prizes:
Augments: the daring new «Blunderbuss» for Hammer, and other augments for this turret, as well as for Freeze, Ricochet, Shaft, Smoky, Striker, Vulcan, Gauss, Railgun and Magnum.
«Crisis» drone, «Armadillo» module, Ultra skins for Striker, Hunter, Hornet, and Viking, and the luxury XT skin for Crusader.
Crystals, supplies, gold boxes.
Shot effects
Animated paints «Integrated circuit» and «Flywheel» and more!
Special Bundle in the Shop
Got a keen eye for a great deal? Cool. We've created a special bundle that will set you ahead of the competition at a really affordable price.
This bundle will be exclusively available in the Shop for the duration of the festivities.
Special bundle «Muraena»
Animated «Beholder» paint
60 Ultra Containers
«Stun Immunity» augment for Hornet
Striker's «Missile launcher "Hunter"» augment
«Hornet XT» skin
«Striker XT» skin
Hornet Мk2
Striker Мk2
«Toxic» shot effect for Striker
Special missions
You can never have enough Ultra Containers. Complete the special missions to get them, along with shards and stars! Open Ultra Containers to get the «Blunderbuss» augment for Hammer, the new «Striker Ultra» skin, the «Armadillo» module, and other rewards.
Supermission: Wild Weekend!
Task: Complete «Scrooge», «Terminator» and «Trickster» missions.
Reward: 7 Ultra Containers and 120 stars
Mission: Scrooge
Task: Earn 30 000 crystals in CTF mode.
Reward: 150 shards and 60 stars
Mission: Terminator
Task: Destroy 200 tanks using heavy hulls (Ares, Titan, Mammoth) in any matchmaking battles.
Reward: 150 shards and 60 stars
Mission: Trickster
Task: Use the «Speed Boost» supply 200 times in any matchmaking battles.
Reward: 150 shards and 60 stars
Themed Decorations
Throughout the 3 days of the event, we'll have themed decorations in the game:
Themed «Holiday» paint;
Festive billboards on all maps;
Festive parachutes;
Festive gold box and its dropzone skins.
So get ready to jump into the fray for three days of blazing combat starting with the server restart on Friday, April 23rd.
Discuss in the forum