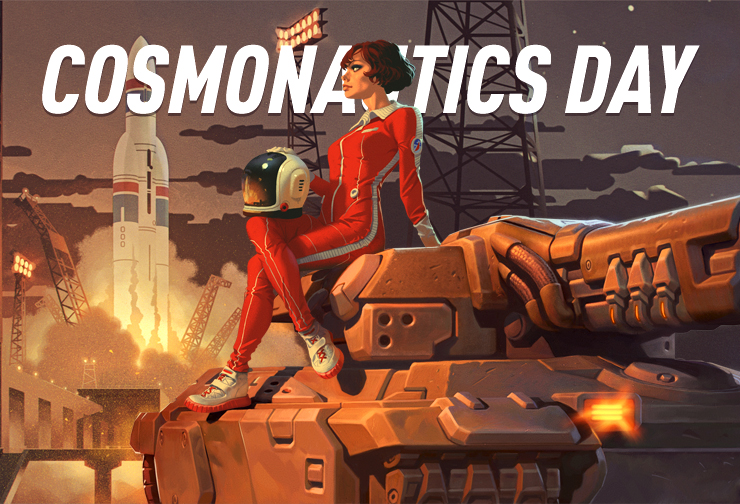 Hello, tankers!
Traditionally, we celebrate Cosmonautics Day in April, a holiday dedicated to the first human spaceflight. This event will remain in history for centuries to come!
This year, «Tanki Online» will also celebrate Cosmonautics day, and create our own history 🙂
A traditional festive programme is coming from 02:00 UTC April 9 until 02:00 UTC April 19. But there is something new as well.
Sales
Economy is important for both tankers and astronauts.
For three days, buy equipment at a cheaper price and explore space.
From 2 AM UTC April 9, until 02 UTC April 10:
30% sale in the Shop. The sale applies to crystals, gold boxes, kits, and stars.
From 2 AM UTC April 10, until 02 UTC April 11:
30% sale in the Garage. The sale applies to hulls, turrets, modules, augments, drones, supplies (including batteries), and paints.
From 2 AM UTC April 11, until 02 UTC April 12:
Sales on Upgrades. 30% discount on upgrades and 50% on their speed-ups.
Double funds and experience
Starting from 2 AM UTC, April 9th till 2 AM UTC April 12th and from 2 AM UTC, April 16th till 2 AM UTC, April 19th experience and battle funds will be doubled! That's a great chance to rank up faster and get access to new items if you haven't unlocked them all yet or even to get more crystals to upgrade your Garage. Also, a festive piggy bank will be available for mobile players from the 9th until the 12th April.
Updated ultra-containers
Before you start your space journey, find out what is waiting for you in Ultra Containers:
Augments for Freeze, Ricochet, Hammer, Striker, Vulcan, Railgun, Gauss, Shaft and the newest one — Blunderbuss for Hammer which has a powerful shot and critical damage feature.
«Crisis» drone and following skins: Gauss XT, Hopper XT, Crusader XT, Ares XT, Hunter UT;
Shot effects;
The rarest protection module «Armadillo»;
New animated «Flywheel» paint;
Premium, common and rare paints;
Crystals, supplies, gold boxes.
Coinboxes
As usual, coinboxes will be available for purchase in the Shop during the event. If you are lucky enough to get 100 000 tankoins out of them, share a screenshot on the forum!
There are other cool rewards too so make sure you check them out on the Wiki.
New resource – Energy
The space days begin on the vast expanse of our tank galaxy tomorrow. Buy special offers and get energy – a new and very important resource that will come in handy in the near future. Stay tuned: we'll tell you the details of the upcoming event very soon.
Cosmic offers
Shop for bargains and get energy. More energy – more opportunities!
«Full fuel tank» special offer
10 ultra-containers
10 coinboxes
20 energy
Animated paint «Galaxy»
«Per aspera ad astra» special offer
200 gold boxes
200 ultra-containers
200 energy
Hopper Mk2
Ricochet Mk2
Hopper XT
Ricochet XT
Paint «Gagarin's Mount»
Hopper's «Lightweight Construction» augment
Ricochet's «Plasma torch» augment
Festive modes
Special mode «Jump Hopper, jump!»
What's an Astronaut's Day without jumping and flying? This is where the Madness map is perfect, and Hopper combined with Ricochet will help you fly for glory and make some fantastic jumps. The main thing is not to fly to the wrong place…
Well, the epic event will be accompanied by a meteor shower, which, according to scientists, is expected to fall on Earth from 9th to 12th April and will bring a lot of gold boxes. Be very careful, cosmic bodies are unpredictable and can cause destructive damage!
Equipment: Hopper + Ricochet
Mode: Deathmatch
Map: Madness
Entry by a special matchmaking button
Available from 2 AM UTC April 9 until 2 AM UTC April 12
Special mode «Hornet Railgun»
For those who love the classics, or just want to keep your skill in shape – Hornet Rail, CTF, Sandbox
Equipment: Hornet + Railgun
Mode: CTF
Map: Sandbox 4×4
Entry by a special matchmaking button
Available from 2 AM UTC April 16 until 2 AM UTC April 19
Special missions
Conquer the Tanki universe by completing special missions and win prizes!
Supermission: Galaxy Conqueror
Complete «Meteor shower», «Meteorite», «Stardust» and «Milky Way» missions.
Prize: 7 ultra-containers and 100 stars
Mission: Meteor shower
Earn 30,000 battle points in any matchmaking battles.
Prize: 150 shards and 50 stars
Mission: Meteorite
Use overdrive 100 times in any matchmaking battles.
Prize: 150 shards and 50 stars
Mission: Stardust
Destroy 200 tanks using melee-range turrets (Firebird, Freeze, Isida) in any matchmaking battles.
Prize: 150 shards and 50 stars
Mission: Milky Way
Use double armor 199 times in any matchmaking battles.
Prize: 150 shards and 50 stars
Tankmaggedon and festive theme
Instead of the usual gold boxes, meteorites will fall from the sky! You will also find a cosmic atmosphere in the game:
Themed billboards;
Themed paint;
Themed flags in CTF;
Themed parachutes;
Themed gold boxes and their drop zones.
Dive into an exciting space adventure with «Tanki»!
Discuss in the forum