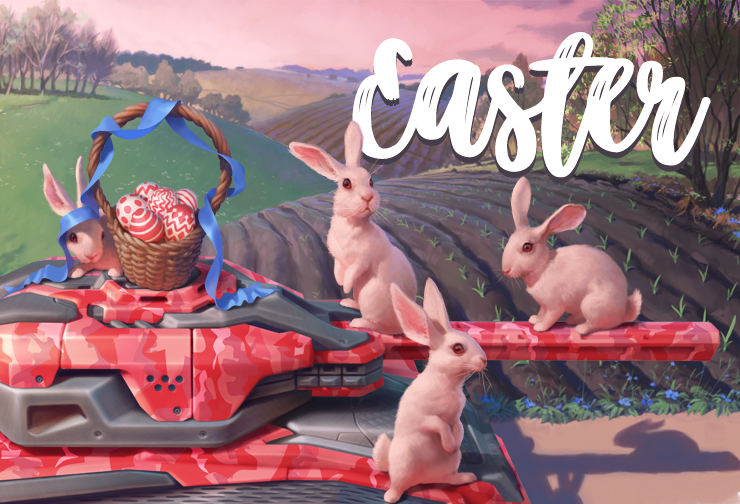 Hello, Tankers!
Easter, a great and bright holiday, is coming soon. Of course, Tanki Online won't stay aside and will join in the celebrations.
From March 26, 2 AM UTC to April 5, 2 AM UTC, you'll find a lot of interesting things such as discounts, increased funds and experience points, coinboxes and updated ultra-containers, two special modes, new missions, and special offers.
Discounts
We try to please our player base with discounts every holiday, and Easter is no exception to this. Upgrade your fighting machine with profit, the holiday sales begin!

From 2 AM UTC March 26, until 02 UTC March 27:
30% sale in the Shop. The sale applies to crystals, gold boxes, kits, and stars.

From 2 AM UTC March 27, until 02 UTC March 28:
30% sale in the Garage. The sale applies to hulls, turrets, modules, augments, drones, supplies (including batteries), and paints.

From 2 AM UTC March 28, until 02 UTC March 29:
Sales on Upgrades. 30% discount on upgrades and 50% on their speed-ups.
Special modes
Boss football
How about a game of football?
Two things in one: American football and the fun Easter tradition of breaking eggs. Whoever doesn't break one – wins.
Interested? Here are the details:
This weekend, from the restart on March 27 until the restart on March 29;
Everyone will have Juggernaut;
«Rugby» mode;
The ball is replaced with an egg!
Maps: Solikamsk, Brest, Massacre.
And all of this in a special matchmaking mode.
Join us!
We also haven't forgotten about Fool's day
Everyone likes special 1st April gold boxes with random stuff inside, and these gold boxes became one of the traditions on this holiday in Tanki Online, so we're going to add them to the game this time as well!
The mode will arrive in the game with the restart on April 3 and will last until the restart on April 5. All you have to do is catch a lot of gold boxes!
«Deathmatch» mode;
Increased gold box drop chance;
Random gold box with fancy content inside.
Maps: Tribute, Molotov, Silence.
You can enter the second event with a button in the matchmaking menu.

Join us! It will be fun!
Special offers
The Easter Bunny has prepared two special offers for you. They will be available in the shop throughout the holiday.
Easter special offer «Bunnie's box»:
66 gold boxes
66 ultra-containers
66 coinboxes
66 containers
Animated paint «Bunny»
April fools day special offer «This is not a joke…»:
11 ultra-containers
55 555 crystals
Animated paint «LOL»
Ultra-containers
The Easter Bunny likes to hide presents. A couple of them will be in the game, but what's in them – you have to find it out yourself.
Throughout the Easter holidays, from March 26 to April 5, buy the updated ultra-containers in the Shop or earn them through missions and receive:
Augments for Freeze, Hammer, Ricochet, Smoky, Striker, Vulcan, Railgun, Magnum, Gauss, and Shaft;
«Crisis» drone
«Armadillo» module
Skins: Gauss XT, Hopper XT, Vulcan UT, Railgun UT, Viking UT;
Shot effects for Vulcan and Gauss;
New animated «Integrated circuit» paint.
Coinboxes;
Premium subscription, common and rare paints;
Crystals, supplies, gold boxes
Coinboxes
As usual, coinboxes will be available for purchase in the Shop during the event. If you are lucky enough to get 100 000 tankoins out of them, share a screenshot on the forum!
You can buy them from 2 AM UTC, March 26 to 2 AM UTC, April 5 in the Shop, and share screenshots of your best drops! There are other cool rewards too; make sure to check them out on the Wiki.
Special missions
Don't forget to check out the new special missions we have prepared for you. Complete them and get prizes that will help you to finish the challenge faster.
Super mission: Easter
Task: Complete «Decorating eggs», «Easter bread», «Easter Bunny» and «Miracle cure» missions.
Prize: 7 ultra containers and 100 stars
Mission: Decorating eggs
Task: Catch 10 gold boxes in any matchmaking battles.
Prize: 150 shards and 50 stars
Mission: Easter bread
Task: Earn 30000 battle points in any matchmaking battles.
Prize: 150 shards and 50 stars
Mission: Easter Bunny
Task: Destroy 100 tanks using light hulls (Wasp, Hornet, Hopper) in any matchmaking battles.
Prize: 150 shards and 50 stars
Mission: Miracle cure
Task: Use a repair kit 50 times in any matchmaking battles.
Prize: 150 shards and 50 stars
Boosted funds and experience
Starting from 2 AM UTC, March 26th till 2 AM UTC March 29th and from 2 AM UTC, April 2nd till 2 AM UTC, April 5th experience and battle funds will be boosted! That's a great chance to rank up faster and get access to new items if you haven't unlocked them all yet or to get more crystals to upgrade your Garage.
Themed decorations
The holiday atmosphere will be boosted by the special decorations:
Themed «Holiday» paint;
Festive billboards on all maps;
Festive parachutes;
Festive gold box and its dropzone skins.
Have fun during the Easter holiday!
Discuss in the forum