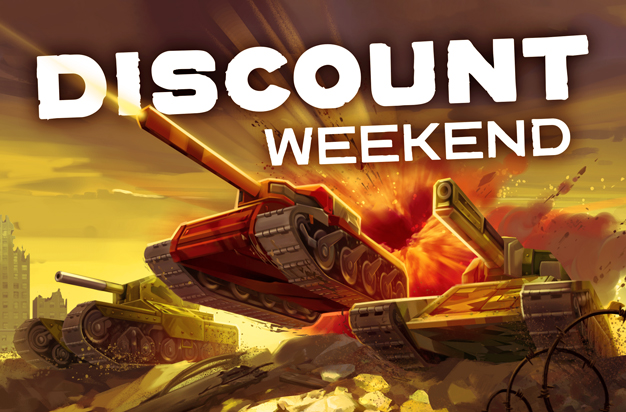 Event: Ultra Weekend October 23rd – 25th
Duration: 3 days
Starts: Friday, October 23rd
Ends: Monday, October 26th
Important note: Unless otherwise stated, all events and activities start and end with the server restart at 02:00 UTC.
Tankers!
We are happy to announce that the upcoming Friday, Saturday and Sunday will be ULTRA!
There will be special missions, boosted funds and experience, coinboxes and Ultra Containers, a valuable special offer, and a themed design.
This Ultra Weekend will start on Friday, October 23rd, at 2:00 UTC, and will last until Monday, October 26th, at 2:00 UTC.
Boosted Funds and Experience
Enjoy the fall harvest on maximum! You will get boosted funds and experience for every matchmaking battle on top of the crystal bonuses and experience that we announced earlier.
Coinboxes
Coinboxes return for this special event, with a chance to drop up to 100 000 Tankoins. You can find them in the Shop.
1 tankoin
10 tankoins
30 tankoins
40 tankoins
50 tankoins
100 tankoins
200 tankoins
300 tankoins
500 tankoins
1 000 tankoins
2 000 tankoins
3 000 tankoins
100 000 tankoins
1 000 crystals
2 000 crystals
5 000 crystals
15 000 crystals
30 000 crystals
30 speed boosts
30 mines
30 double armours
30 double damages
30 repair kits
15 batteries
Ultra containers
Of course, don't forget about ultra containers, which you can get for completing various special missions, as well as purchase in the shop, as they temporarily replace standard containers.
From ultra containers, you can get elite XT skins for Hopper and Ares, augments for Hopper and Ares, a «Crisis» drone as well as crystals, supplies, gold boxes, days of Premium Pass, common and rate paints, augments, XT and PR skins and coinboxes.
Special Bundle in the Shop
Got a keen eye for a great deal? Cool. We've created a special bundle that will set you ahead of the competition at a really affordable price.
This bundle will be exclusively available in the Shop for the duration of the festivities.
Special bundle: Mangate
50 coinboxes
50 ultra containers
100 000 crystals
Special missions
You can never have enough ultra containers. Complete the special missions to get them and… stars!
Mission: Ultra fighter
Task: Earn 5 000 points in any Matchmaking battles.
Prize: 1 Ultra Container and 10 Stars
Mission: Ultra warrior
Task: Earn 10 000 points in any matchmaking battles.
Prize: 2 Ultra Containers and 20 Stars
Mission: Ultra terminator
Task: Earn 20 000 points in any matchmaking battles.
Prize:3 Ultra Containers and 30 Stars
Mission: Knockout
Task: Destroy 300 tanks with melee range turrets (Firebird, Freeze, Isida) in the «Siege» mode
matchmaking battles.
Prize: 20 stars
Mission: Winner
Task: Be in the winning team of 20 «Siege» mode matchmaking battles.
Prize: 20 stars
Themed Decorations
Throughout the 3 days of the event, we'll have themed decorations in the game — a special holiday paint, themed billboards on every map, holiday parachutes, and themed goldboxes and dropzones.
So get ready to jump into the fray for three days of blazing combat starting with the server restart on Friday, October 23rd.
Discuss in the forum