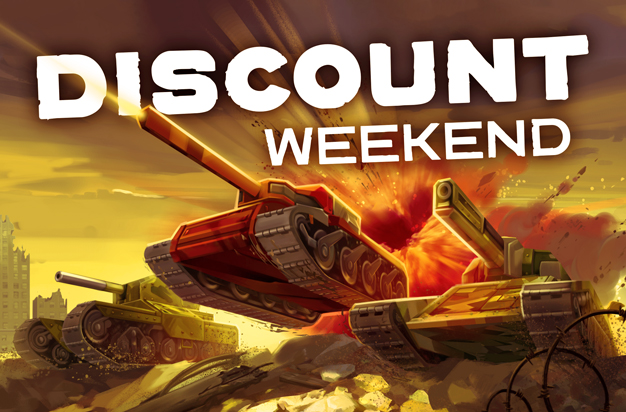 Event: Discount Weekend – September 2020
Duration: 3 days
Starts: Friday, September 25th
Ends: Monday, September 28th
Important note: Unless otherwise stated, all events and activities start and end with the server restart at 02:00 UTC.
Tankers!
The last two weekends didn't turn out as well as we expected them to be due to the server issues we had. We are very sorry and will do our best to avoid a repetition of the situation.
We would like to improve the mood and prolong the joy of novelties by giving you an additional week to purchase the «Early access» bundle and…
Are you ready for another Crazy Discount Weekend?
Three days of discounts: Shop on Friday, Garage on Saturday, and Upgrades & Speedups on Sunday.
Additionally, for three full days, we'll have:
Double Funds and Experience
A Special Bundle in the Shop
Coinboxes
Ultra containers
Discounts
Discount: 25% on Shop Crystals, Kits, Golds
Duration: 1 day
Starts: Friday, September 25th
Ends: Saturday, September 26th
Discount: 25% on Garage Turrets, Hulls, Modules, Augments, Drones, Supplies, Batteries, Paints
Duration: 1 day
Starts: Saturday, September 26th
Ends: Sunday, September 27th
Discount: 25% & 50% on Upgrades & Speedups respectively
Duration: 1 day
Starts: Sunday, September 27th
Ends: Monday, September 28th
Coinboxes
Coinboxes return for this special event, with a chance to drop up to 100 000 Tankoins. You can
find them in the Shop.
1 Tankoin
10 Tankoins
30 Tankoins
40 Tankoins
50 Tankoins
100 Tankoins
200 Tankoins
300 Tankoins
500 Tankoins
1 000 Tankoins
2 000 Tankoins
3 000 Tankoins
100 000 Tankoins
1 000 crystals
2 000 crystals
5 000 crystals
15 000 crystals
30 000 crystals
30 speed boosts
30 mines
30 double armours
30 double damages
30 repair kits
15 batteries
Ultra Containers
Of course, don't forget about Ultra Containers, which you can get for completing various special missions, as well as purchase in the shop. From Ultra Containers, you can get a variety of awesome rewards: the cool Ares XT skin, supplies, gold boxes, days of Premium Pass, an assortment of the hottest paints, augments, XT and PR skins, coinboxes, a «Crisis» drone, or even our newest novelty – the «Hopper» hovering hull, augments and XT skin for it!
Special Bundle in the Shop
We have prolonged the «Early access» bundle so you still have a chance to check out the new Hopper hull earlier than others. This bundle comes with:
Hull Hopper Mk1
100 updated Ultra Containers
"Heat Resistance" Augment for Hopper
"Cold Resistance" Augment for Hopper
Don't miss it! Hopper can jump onto buildings, stun opponents, and best of all, catch containers like no other hull!
Special «Ultra Fight» Mission
You can never have too many Ultra Containers, right? Play MM battles, complete the mission and get Ultra Containers!
Mission: Ultra Fight
Task: Earn 20 000 points in any matchmaking battles.
Prize: 2 Ultra Containers
Double Battle Funds and Experience in MM battles
Make the best out of your action!
Every matchmaking battle you finish during the event will reward you with double Battle Funds and Experience Points for each battle.
Themed Decorations
Throughout the 3 days of the event, we'll have themed decorations in the game — Holiday paint, Billboards on the maps, Holiday parachutes, Festive gold box skin, Festive gold box and drop zone skins.
So get ready to jump into the fray for three days of blazing combat starting with the server restart on Friday, September 25th.
Discuss in the forum