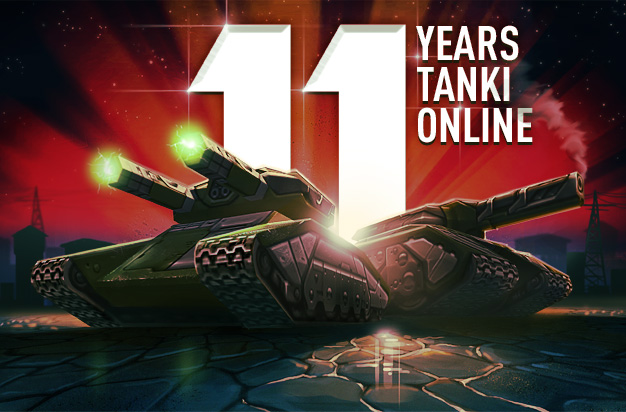 Hello, tankers!
Everyone has been waiting for this day the whole year. We are all making plans, inviting our friends, preparing as if it is the New Year, looking at the calendar and anxiously counting the days until this very special day.
Well, we are happy to announce that just a few hours remain before this very exciting and special day — Tanki Online's birthday!
Tomorrow, on June 4th, Tanki Online will turn 11! Can you believe this?! In perspective, 11 years is longer than a decade!
Over the past year, the game has undergone tons of events, and lots of new updates have come to the game. We have been developing the game, preparing updates, organizing dozens of meetups, and that's just the tip of the iceberg!
A new year for the game will start very soon, during which we will be ramping up the development process and soaring to new, never-before-seen heights!
Let's get straight to the point: This year's birthday celebration will be long, loud, and very memorable!
Here is our celebration calendar for the next 11 days!
From 02:00 UTC June 4th till 02:00 UTC June 15th you can expect themed holiday decorations, a number of very special missions, including thematic daily missions with great rewards, lots of surprises, increased funds and experience points in Matchmaking battles, coin boxes, holiday modes with increased gold drop rates, massive discounts, special offers, and much more!
First things first:
Sales
All of you love to get your dream combo at a massive discount, right? Well, we will be having 50% off sales EVERYWHERE — in the Shop and in the Garage!
02:00 UTC June 5th — 02:00 UTC June 6th;
Discount: Shop items, including crystals, Product Kits, and Gold Boxes.
02:00 UTC June 6th — 02:00 UTC June 7th;
Discount: Garage items, including Turrets, Hulls, Protection Modules, Drones, Supplies, Batteries, Paints, and by popular demand, Augments, including those that you can buy for Tankoins.
02:00 UTC June 7th — 02:00 UTC June 8th;
Discount: 50% off on both Upgrades & Speed-ups.
Triple funds and double experience*
During all 11 days of the celebrations, starting at 02:00 UTC on June 4th and lasting until 02:00 UTC on June 15th, you will receive twice as much experience in all matchmaking battles, and earn a jaw-dropping three times as many crystals for each battle finished! This is the perfect time to both rank up very quickly, as well as earn hundreds of thousands of crystals!
Coinboxes
For the duration of all 11 days, try your luck with Coinboxes, and you could get 100,000 Tankoins!
List of possible rewards:
1 tankoin
10 tankoins
30 tankoins
40 tankoins
50 tankoins
100 tankoins
200 tankoins
300 tankoins
500 tankoins
1000 tankoins
2000 tankoins
3000 tankoins
100000 tankoins
1000 crystals
2000 crystals
5000 crystals
15000 crystals
30000 crystals
30 speed boosts
30 mines
30 double armors
30 double damages
30 repair kits
15 batteries
Special Holiday Event
This weekend, from 02:00 UTC on June 6th till 02:00 UTC on June 8th, you will be able to join a very cool party — «Solo Juggernaut» in the Aleksandrovsk MM map, with highly increased chances of Gold Boxes dropping!
Try your best to become the Juggernaut, and not give it to other players, as it will be much easier for the "boss" at this party to catch all the Gold Boxes!
The second special event will take place on June 13th and 14th, in the beloved DM mode, on the special Kolhoz map (we remember that you really liked it in previous events). We won't tell you exactly what we have planned just yet (we will tell you in a future, separate post), but meanwhile, here are some hints: a very large picnic, barbecues, lots of soda and cake. 😉
Special Bundles
For the whole duration of the event, you can purchase a couple special bundles with some great rewards at a bargained price in the Shop!
Special «Stunning deal» bundle
5 containers
300 of each Supply (excluding Gold Boxes and Batteries) — pretty handy at private parties, or while trying to catch a golden cake
100,000 crystals for shopping during the sales
Special «Drumsticks» bundle
11 days of Premium Pass
111 Ultra Containers (more details here)
111 gold boxes
1,111 tankoins
11,111 crystals
Themed decorations
On the special occasion of the birthday of the game, the festive atmosphere will charm you for all eleven days!
During the festivities, the Holiday paint will cause your tank to be wearing a very bright outfit, and on all maps, you will find thematic billboards, parachutes, flags in the CTF mode, Gold Box textures, and Gold Box drop zones.
*Funds and experience bonuses stack with the benefits provided by Premium account, so if you have some Premium account time remaining on your account, hurry up, and attach an additional trolley to the back of your tank to hold the massive amounts of extra crystals you will receive!
Celebrate the birthday of your beloved game properly, and make sure you don't forget about the other interesting activities: special missions and surprises from the Developers, a phone giveaway, a creative contest and mini-quest!
Discuss in the forum