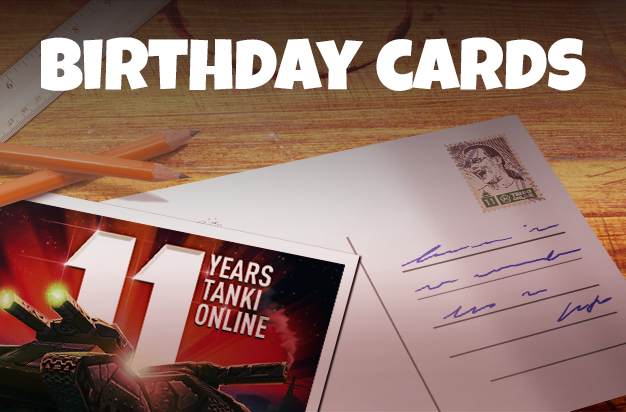 Hello, tankers!
Most of us tend to give gifts to a person on his/her birthday. A greeting card, for example, has always been one of the most pleasant gifts.
In honour of the eleventh Tanki Online birthday, we have prepared a special and unique contest that entails making a greeting card for the game. We suggest that all of you participate as there are many unique prizes up for grabs!
We will have two categories:
Digital colouring, using a graphics editor;
Physical colouring, using pens, pencils, crayons, acrylics, oil colours, etc…
Your card(s) should be about Tanki Online and this Tanki Birthday celebration. It is mandatory that you write «11 years» on your masterpiece 🙂
Prizes for both categories:
1st Place — 50 000 Crystals, 30 Containers, and 30 Coinboxes
2nd Place — 40 000 Crystals, 25 Containers, and 25 Coinboxes
3rd Place — 30 000 Crystals, 20 Containers, and 20 Coinboxes
4th Place — 20 000 Crystals, 15 Containers, and 15 Coinboxes
5th Place — 10 000 Crystals, 10 Containers, and 10 Coinboxes
Honourable mentions that do not make it into the top 5, will receive a consolation prize of 5,000 Crystals and 5 Containers each.
The contest rules:
Make a greeting card.
Take a photo of your card and upload it to any image hosting website (imgur.com is preferred).
Send us a link to your card and your nickname via the special form: https://forms.gle/tXurhzeUUeQ17pkn8
Entries are accepted until June 14th at 15:00 UTC. 
The results will be announced on June 16th.
If you want to participate in this contest you must agree with our General Rules for Contests and Promotions.
Stay tuned and good luck!
Discuss in the forum