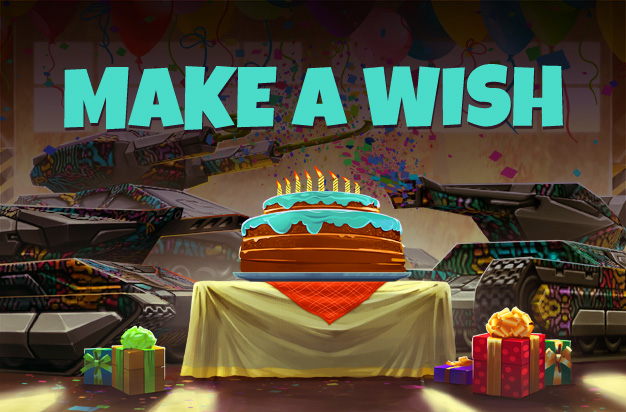 Hello, tankers!
Remember your best birthday? It was probably like this: you unwrap a pile of gifts and many guests came to say happy birthday! Your parents or friends brought you a very big cake. All of you sit at a festive table with lit candles, you make a wish and then blow them out…
We will try to make Tanki Online's birthday similar to this! This is because this year, we have turned 11!
Starting from tomorrow till June 7th 13 UTC, you will be able to send your wishes to Tanki Online and blow out the candles on our digital birthday cake ?. We will collect all your wishes and then one day, they will become true!
What you need to do:
Register on the special contest website:

https://event.tankionline.com/pages/cake11/?l=en

 

Log in with your Tanki Online account username and password.

Write your wish for your favorite game.

Blow out the candles on the cake (click on the cake). Remember your wish and do not tell it to others!
On June 8th, we will hold a giveaway among all the contest participants with the following prizes up for grabs: 
Skin containers

Animated «Live steel» paint

100 000 crystals

50 000 crystals

30 000 crystals

100 gold boxes

50 gold boxes

30 gold boxes

50 containers

30 containers

20 containers

10 containers

50 coinboxes

30 coinboxes

20 coinboxes

10 coinboxes

3 days of Premium Pass
Tanki Online's birthday is also your holiday! So make sure to enjoy its celebration properly. Good luck!
Discuss in the forum