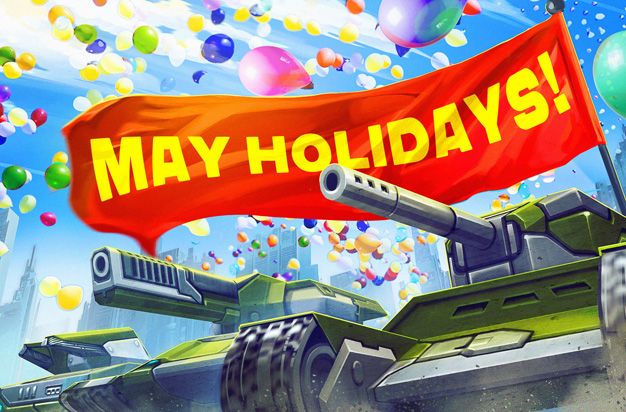 Tankers!
The weather is about to start changing, and it brings with it our traditional May Holidays Event, packed with themed decorations, special activities, value bundles, special missions and of course, discounts!
The event will run from Friday (tomorrow), May 1st at 02:00 UTC till Tuesday, May 12th at 02:00 UTC.
Get ready for 11 days of fun with our May Holidays Event. Check out the full details below.
Themed decorations
Features: Holiday-themed paint, flags, billboards, parachutes, Gold Box skin and drop zone.
Duration: Whole event
Special Value Bundle
Features: 5 Containers, 300 of each Supply (excluding Gold Boxes and Batteries), 100 000 Crystals
Total Savings: 75% Discount
Duration: Whole event
Missions
Mission: «Winner»
Goal: Win 10 matchmaking battles in «CTF» mode (complete the battle in the winning team).
Reward: 1 Container
Mission: «Bomber»
Goal: Use 200 mines in matchmaking battles.
Reward: 1 Container
Mission: «Shootout»
Goal: Destroy 50 tanks with melee range turrets (Firebird, Freeze, Isida) in matchmaking battles.
Reward: 1 Container
Mission: «Energizer»
Goal: Pick up 30 nuclear energy boxes in matchmaking battles.
Reward: 1 Container
Mission: «Flag holder»
Goal: Get into the TOP-3 in CTF mode 50 times in matchmaking battles.
Reward: 2 Containers
Mission: «Hero» (supermission)
Goal: Complete the missions «Winner», «Bomber», «Shootout», «Energizer» and «Flag holder».
Reward: 3 Containers
Holiday Activity 1
Features: Double Battle Funds
Duration: Whole event
Holiday Activity 2
Features: Matchmaking DM holiday mode on Skylarks with increased chance of Gold drops
Starts: Saturday, May 2nd at 02:00 UTC
Ends: Monday, May 4th at 02:00 UTC
Duration: 2 days
Holiday Activity 3
Features: Matchmaking Solo JGR holiday mode on Berlin with increased chance of Gold drops
Starts: Saturday, May 9th at 02:00 UTC
Ends: Monday, May 11th at 02:00 UTC
Duration: 2 days
Coinboxes
Feature: Coinboxes are back with cool prize drops of up to 100 000 Tankoins! (complete list of rewards on the official forum thread)
Duration: Whole event
Discounts
Discount: 30% on Crystals, Kits, and Golds
Starts: Friday, May 1st at 02:00 UTC
Ends: Sunday, May 3rd at 02:00 UTC
Duration: 2 days
Discount: 30% on Turrets
Starts: Sunday, May 3rd at 02:00 UTC
Ends: Monday, May 4th at 02:00 UTC
Duration: 1 day
Discount: 30% on Hulls
Starts: Monday, May 4th at 02:00 UTC
Ends: Tuesday, May 5th at 02:00 UTC
Duration: 1 day
Discount: 30% on Modules
Starts: Tuesday, May 5th at 02:00 UTC
Ends: Wednesday, May 6th at 02:00 UTC
Duration: 1 day
Discount: 30% on Drones
Starts: Wednesday, May 6th at 02:00 UTC
Ends: Thursday, May 7th at 02:00 UTC
Duration: 1 day
Discount: 30% on Paints
Starts: Thursday, May 7th at 02:00 UTC
Ends: Friday, May 8th at 02:00 UTC
Duration: 1 day
Discount: 30% on Supplies & Batteries
Starts: Friday, May 8th at 02:00 UTC
Ends: Saturday, May 9th at 02:00 UTC
Duration: 1 day
Discount: 30% on Upgrades and 50% on Speedups
Starts: Saturday, May 9th at 02:00 UTC
Ends: Monday, May 11th at 02:00 UTC
Duration: 2 days
Discuss in the forum