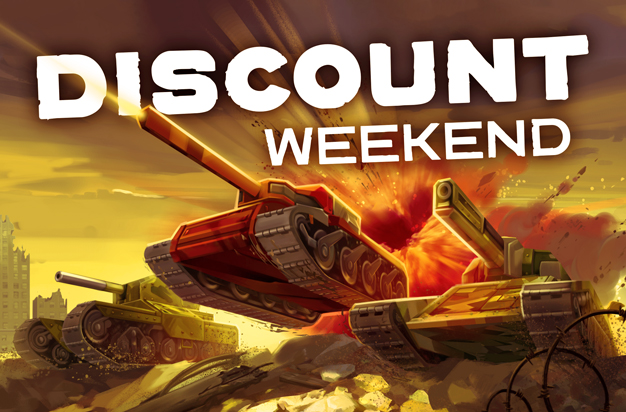 Event: Discount Weekend – April 2020
Duration: 3 days
Starts: Friday, April 24th at 02:00 UTC
Ends: Monday, April 27th at 02:00 UTC
Tankers!
Are you ready for another Crazy Discount Weekend?
Three days of discounts: Shop on Friday, Garage on Saturday, and Upgrades & Speedups on Sunday.
Additionally, for three full days, we'll have:
2X Funds
A Special Bundle in the Shop
Coinboxes
Ultra Containers (NEW!)
Holiday paint, Billboards on the maps, Holiday parachutes, Holiday flags, Festive gold box skin, Festive gold box drop zone skin
These bundles will be available from tomorrow (Apr 24th) till Monday, April 27th, starting and ending with the server restart.
And of course, three days of Special Missions (details below).
Get ready for an amazing weekend!
Discounts
Discount: 25% on Shop Crystals, Kits, Golds
Duration: 1 day
Starts: Friday, April 24th
Ends: Saturday, April 25th
Discount: 25% on Garage Turrets, Hulls, Paints, Modules, Alterations, Drones, Supplies, Batteries
Duration: 1 day
Starts: Saturday, April 25th
Ends: Sunday, April 26th
Discount: 25% & 50% on Upgrades & Speedups respectively
Duration: 1 day
Starts: Sunday, April 26th
Ends: Monday, April 27th
Holiday Bundles in the Shop
Got a keen eye for a great deal? Cool. We've created a special bundle that will set you ahead of the competition at a really affordable price.
This bundle will be exclusively available in the Shop for the duration of the festivities.
5 Containers
300 of each Supply (excluding Gold Boxes and Batteries)
100,000 crystals
Savings: 75% Discount
2X Battle Funds in MM battles
Make the best out of your action!
Every matchmaking battle you finish during the event will reward you with 2X Battle Funds.
Coinboxes
Coinboxes return for this special event, with a chance to drop up to 100 000 Tankoins.
Ultra Containers
A brand new type of container available only during special events.
The Ultra Container may drop one of the following items: crystals, supplies, gold boxes, days of premium, regular and rare paints, alterations, XT and PR skins, coinboxes, unique alterations and unique skins.
Once purchased, they will be found in the «Special» section of the Garage, where you can open them.
What cool reward will you receive? Only one way to find out!
Themed Decorations
Throughout the 3 days of the event, we'll have themed decorations in the game — Holiday paint, billboards parachutes, flags, Gold Box skin and Gold Box drop zone
So get ready to jump into the fray for three days of blazing combat starting with the server restart on Friday, April 24th.
Themed Missions
Mission: Heal my wounds!
Goal: Destroy 150 tanks using Isida in matchmaking battles.
Reward: 2 Ultra Containers
Mission: EMP
Goal: Use Hunter's overdrive 50 times in matchmaking battles.
Reward: 2 Ultra Containers
Mission: Liquidator
Goal: Destroy 10 Juggernauts in matchmaking battles.
Reward: 2 Ultra Containers
RESTRICTIONS: Mission is available for rank 5 (Master Corporal) or higher. If you have not reached this rank, you will not see the mission. Once you reach the required rank, you will need to enter the Special Missions section again in HTML5 or mobile to activate it.
Mission: Bomb disposal
Goal: Destroy 30 tanks using mines in matchmaking battles.
Reward: 2 Ultra Containers
Mission: Wild weekend
Goal: Complete the missions «Heal my wounds!», «EMP», «Liquidator», and «Bomb disposal»!
Reward: 4 Ultra Containers