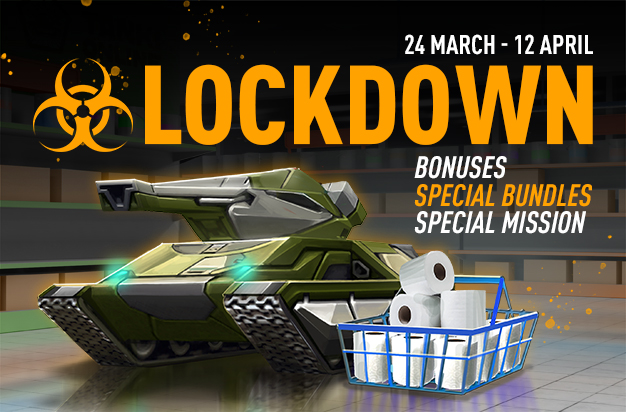 Tankers!
We know. Being locked up indoors is definitely not fun.
But as the old saying goes, "When life gives you lemons, pull out your tank and blast them to bits".
We're about to turn this boring downtime into some of the best fun you'll ever have. Here's what's coming at you, starting from tomorrow, March 24th at 02:00 UTC.
For TWENTY days, we'll have:
1.5X Funds in matchmaking battles
1.5X Experience points in matchmaking battles
Special Mission: Earn 100 000 battle points in MM

Reward: 10 days of Premium
IMPORTANT: Remember to visit the «Special» missions section in HTML5 or mobile version before you start, otherwise your progress won't count.
Special "Antivirus" Bundle

Contains: 1000 Repair Kits
Price: 999 Tankoins
Savings: 80% off

Special "Immunity" Bundle

Contains: 20 days of Premium
Price: Check the Shop for your regional price in real money
Savings: 40% off
Get ready for some serious action, tankers!
Event: Lockdown Event
Duration: 20 days
Starts: Tuesday, March 24th at 02:00 UTC
Ends: Monday, April 13th at 02:00 UTC
P.S. This could also be the PERFECT opportunity to dive into eSports. If you've never joined a tournament, the Blitz events are the perfect place to start. Take this opportunity to hone your skills, team up with some friends and try your hand at eSports. Who knows, you just might enjoy it!
Find out more on the official Tanki eSports portal.
---
*CLARIFICATION:
Premium MULTIPLIES your experience points by 1.5X. It does not add it.
So, for Premium users, the multiplier will be 1.5X1.5 = 2.25X
Therefore, Premium users will get 2.25X experience points.
Discuss in the forum