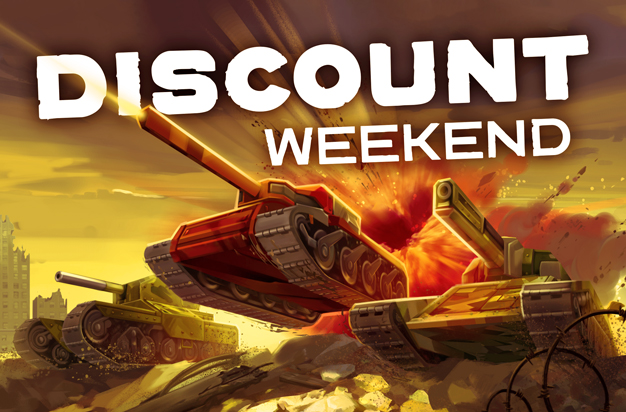 Event: Discount Weekend – January 2020
Duration: 3 days
Starts: Friday, January 24th
Ends: Monday, January 27th
Important note: Unless otherwise stated, all events and activities start and end with the server restart at 02:00 UTC.
Tankers!
Are you ready for another Crazy Discount Weekend?
Three days of discounts:
Shop on Friday
Garage on Saturday
Upgrades & Speedups on Sunday.
Additionally, for three full days, we'll have:
2X Funds
A Special Bundle in the Shop
Coinboxes
Holiday paint
Billboards on the maps
Holiday parachutes
Holiday flags
Festive gold box skin
Festive gold box drop zone skin
Get ready for an amazing weekend!
Discounts
Discount: 25% on Shop Crystals, Paints, Kits, Golds
Duration: 1 day
Starts: Friday, January 24th
Ends: Saturday, January 25th
Discount: 25% on Garage Turrets, Hulls, Modules, Alterations, Drones, Supplies, Batteries
Duration: 1 day
Starts: Saturday, January 25th
Ends: Sunday, January 26th
Discount: 25% & 50% on Upgrades & Speedups respectively
Duration: 1 day
Starts: Sunday, January 26th
Ends: Monday, January 27th
Holiday Bundles in the Shop
Got a keen eye for a great deal? Cool. We've created a special bundle that will set you ahead of the competition at a really affordable price.
This bundle will be exclusively available in the Shop for the duration of the festivities.
5 containers
300 of each supply (excluding Gold Boxes and Batteries)
100,000 crystals
You can get this bundle from the Shop for real money. If you had to buy all of these items separately, you'd be paying approximately 4X the price. So don't miss out on this whole bundle of goodies at 75% off!
2X Battle Funds in MM battles
Make the best out of your action!
Every matchmaking battle you finish during the event will reward you with 2X Battle Funds.
Themed Decorations
Throughout the 3 days of the event, we'll have themed decorations in the game — Holiday paint, Billboards on the maps, Holiday parachutes, Holiday flags, Festive gold box skin, Festive gold box drop zone skin.
So get ready to jump into the fray for three days of blazing combat starting with the server restart on Friday, January 24th.
Discuss in the forum