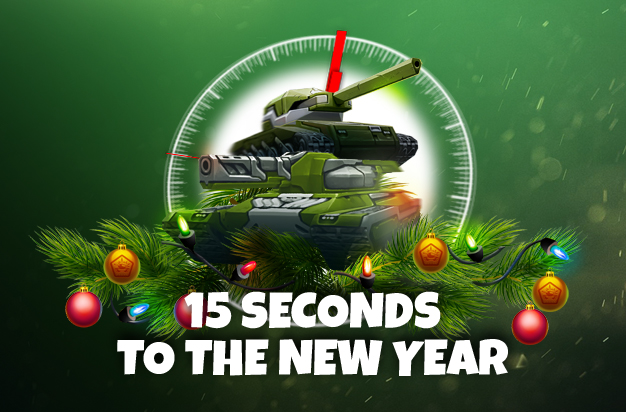 Tankers!
The holidays are in full swing! New Year is coming to all houses around the world soon and this means it's time to prepare greeting cards and kick off our winter contest with best wishes to fellow tankers — «15 Seconds to the New Year»!
In order to participate you need to:
Make a greeting card. You may use a graphic editing tool or draw it yourself on a piece of paper or anywhere. Keep in mind that you must write your nickname, «15 Seconds to the New Year», and «2020» on your card, otherwise it will not be reviewed.
Take a photo of your entry (if you drew it).
Upload your photo or artwork to any image hosting (such as imgur.com).
We will have two categories:
Digital coloring, using a graphics editor

Physical coloring, using pens, pencils, crayons, acrylics, oil colors, etc
Remember, your cards should be about Tanki Online and this festive season.
Prizes for both categories:
1st place — 100 000 crystals, 20 containers and 500 tankoins.
2nd place — 70 000 crystals, 19 containers and 450 tankoins.
3rd place — 50 000 crystals, 18 containers and 400 tankoins.
4th place — 40 000 crystals, 17 containers and 350 tankoins.
5th place — 30 000 crystals, 16 containers and 300 tankoins.
6th place — 20 000 crystals, 15 containers and 250 tankoins.
7th place — 10 000 crystals, 14 containers and 200 tankoins.
8th place — 10 000 crystals, 13 containers and 150 tankoins.
9th place — 10 000 crystals, 12 containers and 100 tankoins.
10th place — 5 000 crystals, 11 containers and 50 tankoins.
Honorable mentions that do not make it into the top 10, will  receive a consolation prize of 10,000 crystals each.
IMPORTANT: By submitting your entry, you agree to transfer all rights of the submitted work to the contest organizer. For more information, please see point 9.3 of the EULA: http://tankionline.com/en/eula.
Entries are accepted till January 12th at 13:00 UTC. 
Results will be announced on January 14th. Stay tuned and good luck! 
Discuss in the forum