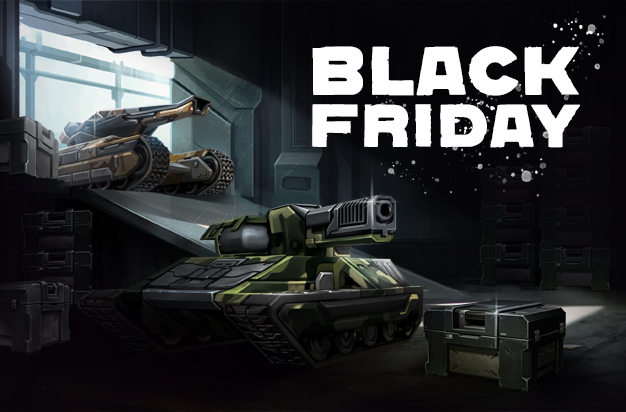 Details
Event: Black Friday 2019
Duration: 3 Days
Starts: 02:00 UTC on Friday, November 29th
Ends: 02:00 UTC on Monday, December 2nd
Features: Viking Thunder Prime, Hyperion Drone, XT Container, Coinboxes, Value Bundles, 50% Discounts.
---
Tankers!
Friday, November 29th, Black Friday will be coming to Tanki Online with some sweet deals and hot releases.
Here's everything you need to know about the event, which starts with tomorrow's server restart.
New Viking Thunder Prime
The newly-redesigned Viking Thunder Prime, with cooler visual effects, higher polygon count and boosted level of awesome, will be available to BUY for 3 days only. If you already have the older version, don't worry, it will magically be transformed into the new version!
For IMPORTANT details about the availability of these skins, please check the official announcement (coming soon)!
Great Value Bundle
Stock up on the essentials at a great price. The Black Friday Bundle is available for 24 hrs only (02 UTC on Nov 29th – 02 UTC on Nov 30th) and contains the following:
5 Containers
300 of each supply (excluding Gold Boxes and Batteries)
100 000 crystals
And it's all at one low price.
New Hyperion Drone
There's a new bad boy in town — the Hyperion Drone, and it will be launched officially during our Black Friday event tomorrow.
You will be able to buy Hyperion normally from the Garage, starting from Legend rank.
However, during the Black Friday 2019 event, we'll also have a special Hyperion Bundle. It will unlock from Marshall rank, and will include:
The Hyperion Drone
300 Batteries
300 of each supply (excluding Gold Boxes and Batteries)
The Bundle will become available at 02:00 UTC on Saturday, November 30th, exclusively in the HTML5 version of the game.
HOWEVER, if you buy the Black Friday Special Bundle (mentioned earlier) on Friday 29th, you will get an EARLY UNLOCK of the Hyperion Bundle, so you'll be able to buy it before everyone else.
If you still haven't leveled up enough for it, get your tank to work, because you'll want to snatch Hyperion as soon as it becomes available.
For the full details, check out the official announcement.
XT Containers
Missing XT Skins? Complete your collection by snatching a few XT Containers. Remember, the XT Container only gives you skins that are NOT in your collection. XT Containers will be available to purchase for 24 hrs only (02 UTC on Nov 29th – 02 UTC on Nov 30th) , so make sure you don't miss this chance.
Coinboxes
Coinboxes are back for 24 hrs only (02 UTC on Nov 29th – 02 UTC on Nov 30th). Open them and find one of many possible rewards, including big bundles of Tankoins!
For the full list of possible drops, check out the Wiki under the Coinboxes section.
50% Discounts
There can't be a Black Friday without discounts.
So, for 24 hrs only (02 UTC on Nov 29th – 02 UTC on Nov 30th), we're slashing our prices in HALF.
50% Shop Discount: Crystals, Paints, Kits, Gold Boxes, Containers
Shop sale exceptions: First Container Pack, Second Container Pack, Third Container Pack, Tankoins, Premium, XT Containers, Coinboxes
50% Garage Discount: Turrets, Hulls, Modules, Alterations, Drones, Supplies, Batteries, Paints
Garage Sale Exceptions: Hyperion Drone
So, get ready to dive into the game with tomorrow's server restart, and enjoy our 3 days of Black Friday celebrations!
Discuss in the forum