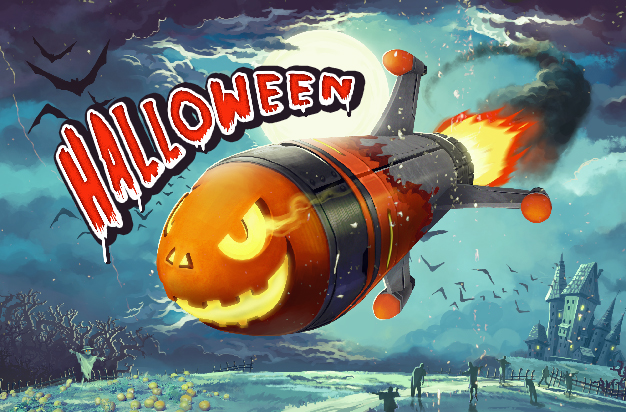 TL;DR: Halloween 2019 brings you 3 days of sales, and 10 days of special events, themed decorations, gifts and cool bundles, starting with tomorrow's server restart! Details below.
Tankers!
It's time to practice your evil laugh and scary moves, and get ready to terrorize your enemies on the battlefield.
Our Halloween 2019 celebrations kick off with tomorrow's (Friday, October 25th) server restart. Here are all the terrifying things we've prepared for you.
 Three days of Discounts
Discount: Shop sale 30% off (Crystals, Paints, Kits, Golds)
Duration: 1 day
Starts: October 25
Ends: October 26
Discount: Garage sale 30% off (Turrets, Hulls, Modules, Alterations, Drones, Supplies, Batteries)
Duration: 1 day
Starts: October 26
Ends: October 27
Discount: Upgrades 30% off and speed-ups 50% off
Duration: 1 day
Starts: October 27
Ends: October 28
Holiday Bundles for super affordable purchases
These two bundles will be available for 10 days from October 25th till November 4th.
Holiday Bundle 1
5 Containers
300 of each supply (excluding Gold Boxes and Batteries)
100 000 crystals
Holiday Bundle 2 – Available exclusively from the shop
Animated paint (only available in this bundle and containers)*
15 Containers
25 000 crystals
Double Battle Funds for ten days
Every kill brings you twice the reward from October 25th to November 4th
Special activities
For three days, we'll be bringing back Solo Juggernaut mode on a special map, which will also feature higher frequency Gold Box drops hurtling down onto the map as special Halloween rockets.
Expect a ton of fun and crazy battles. This special event will be in the game as follows:
Saturday, October 26th for 1 day
Thursday, October 31st for 1 day
Saturday, November 2nd for 1 day
Themed Decorations
In keeping with our tradition, for the whole ten days of the event, the game will feature special themed decorations.
Themed holiday paint
Themed billboards on all maps
Themed parachutes for drop supplies
Themed holiday gold box skin
Themed holiday Gold Box drop zone
You'll also be able to treat your fellow tankers with a special in-game gift of Candies. That should make them a bit less angry at you for all the times you're gonna blast their tank into the afterlife.
So, get ready to dive into our Halloween 2019 celebrations, starting with tomorrow's server restart at 02:00 UTC!
NOTE: All events start and end with the server restart at 02:00 UTC on the specified dates.
P.S. We're also having a special themed WAR to go along with the Halloween celebrations. More details here.
Discuss in the forum