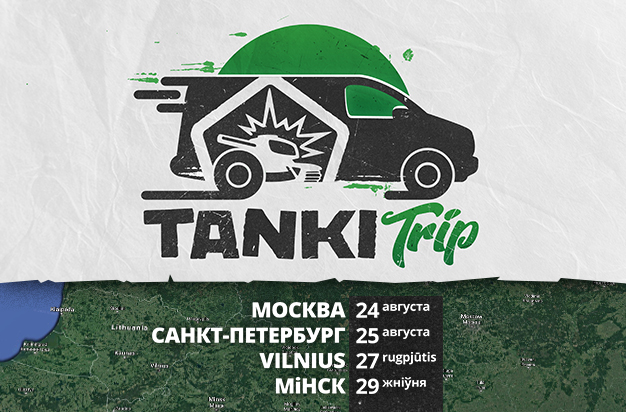 Tankers!
The long-awaited Tanki Trip 2019 is now on the road, and one of the meet-ups will be held for the first time in Vilnius, Lithuania. 
Why is this a big deal? 
Because for a good number of our players, getting to Vilnius is a lot easier than visiting Russia or Belarus!
To make sure the meet-up in Vilnius goes as smoothly as possible, we'll be telling you a little about the city itself, and about the place where we will be waiting for you on August 27 at 18.00 local time.
Watch this space for upcoming details about the meeting place in Vilnius, and some interesting facts about why you shouldn't miss it.
And don't forget about the Tanki Trip Bundle. It's available to buy in the Shop, and contains:
The 'Tanki Trip 2019' exclusive paint

5 Containers

50 000 crystals

300 TANKOINS

A special QR code that you can present at the meetup in exchange for an XT skin from among those not in your collection (this code can only be used at the meetup and is not exchangeable or redeemable in any other way)

The chance to win a Nokia Smartphone or 3 prizes in Tankoins in our special livestream on September 2nd
Discuss in the forum