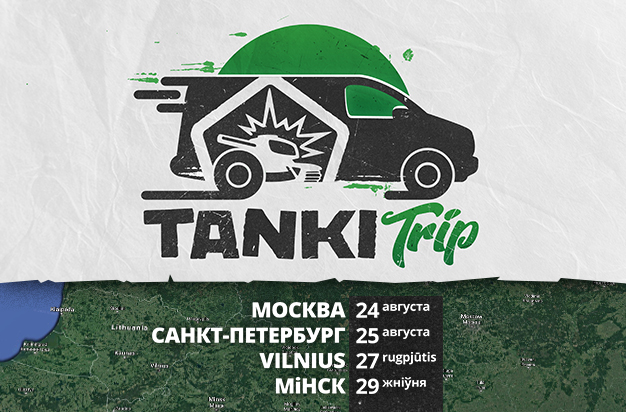 Tankers!
Today, our Tanki team will be meeting the tankers waiting for them in Vilnius. If you're anywhere near the city, you definitely shouldn't miss this fun event.
Details
Location: Tauras Hill, at 5 V. Mikolaiche-Putino St. (Lithuanian: V. Mykolaičio-Putino 5), in the very heart of Vilnius.
Time: 18:00 local time
The Tanki Online minivan will be parked in a convenient and fairly large parking lot, in front of the trade union palace, overlooking a stunning panorama of the city.
Here's some more information on the place: http://www.vilnius-tourism.lt/lt/ka-pama//sights/panoramos/taurakalnis/
How to get there
If you're thinking of joining the meetup, here are a few ways that you can get there:
By bike — There's a bike path leading directly to the location through the Wedding Palace
By car — There's a large parking in front of the palace of trade unions
By car-sharing — The car park mentioned above has a zone for CityBee car-sharing vehicles.
By public transport — There are multiple stops close to the meetup location.
What will happen at the meeting?
MEET THE TEAM — Well, first of all, you're going to have a great time with our five Tanki superheroes — Kasim, Masha, Kola and the two Sashas. You've seen them in the V-LOG. Now it's time to meet them in person!
GET JUICY NEWS — We will be answering your questions about the game, and sharing development plans for the future.
WIN AWESOME PRIZES — You'll also have the chance to win prizes in our quiz, take cool selfies, and participate in a special prize-draw where you could win a smartphone from our partner — Nokia.
AND MORE — And don't forget about the Tanki Trip Bundle. It's available to buy in the Shop, and contains:
The 'Tanki Trip 2019' exclusive paint
5 Containers
50 000 crystals
300 TANKOINS
A special QR code that you can present at the meetup in exchange for an XT skin from among those not in your collection (this code can only be used at the meetup and is not exchangeable or redeemable in any other way)
The chance to win a Nokia Smartphone or 3 prizes in Tankoins in our special livestream on September 2nd
What if you can't make it to the meetup? 🙁
Well, that's unfortunate, because you'll be missing out on a ton of fun.
BUT, all is not lost! If you buy the 'Tanki Trip 2019' bundle, you will STILL be in the chance to win a Nokia Smartphone or 3 prizes in Tankoins in our special livestream on September 2nd.
Cool?
Read more about the Tanki Trip 2019 here.
Discuss in the forum