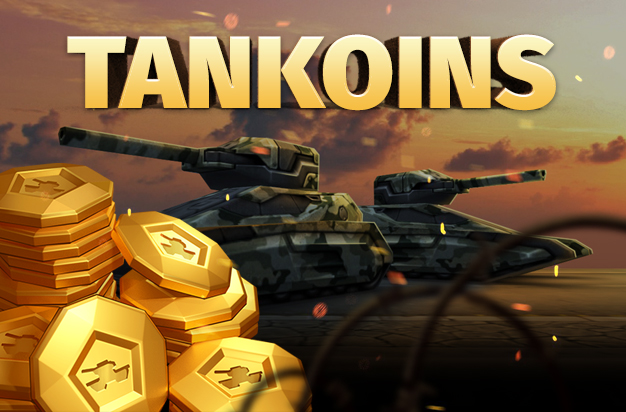 UPDATED: Learn more about Tankoins in episode 219 of the V-LOG.
---
Tankers!
Recently, we told you about the new currency that's coming to the game — Tankoins.
We're pleased to announce that Tankoins were added to the game on August 2!
Tankoins can be purchased for money from the Shop, and will be the primary means for buying goods in the Shop.
What will change in the game with the arrival of Tankoins?
Any content, including paid, can be earned in the game. It won't be easy, and it'll take a long time, but it will be possible.
Discounts will become available in TO Mobile. However, Tankoins will NEVER be discounted. Instead, the discounts will be on the items you purchase with Tankoins.
Tankoins will appear in the monthly challenge silver tier (starting from the September challenge). This selection of free awards will become much more attractive!
Weekly containers will be another source of this new currency. In the coming weeks, the game will feature NEW weekly containers with Tankoins inside. The conditions for obtaining them will not change.
IMPORTANT: all accumulated weekly containers will be renamed to "Old Weekly Containers", and will not drop Tankoins.
The new currency will be released in 3 stages:
With tomorrow's update Tankoins will become available to buy and spend in the Shop. This will be a short period that will allow us to make sure that everything is working properly.
In the subsequent weeks, we will add the Tankoins to challenges and NEW weekly containers.
The third stage depends on the first two. During this final stage, we will add a number of places where you can spend coins outside the Shop.
And, of course, Tankoins will be included as rewards in contests and promotions!
How it works
Purchasing and spending Tankoins is super easy.
You buy them for real money from the Shop. Then you can use them in the Shop to buy a number of different items including crystals, gold boxes, containers and more.
The only things you will NOT be able to purchase with Tankoins, are Premium and a number of bundles that will be sold for money only.
So enter the game tomorrow, check out the new Tankoins currency and share your feedback on the forum!
Discuss in the forum