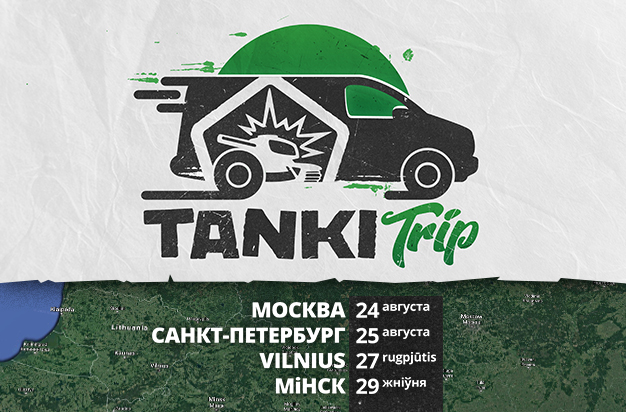 News Update 16/08/19
Tankers!
We continue to tell you about the upcoming Tanki meetings.
Today we would like to remind you about where the meetings will be held, whom of the development team you will meet and why this meeting should not be missed!
So, Tanki trip 2019 will cover four cities at once:
August 24th: Moscow
August 25th: St. Petersburg
August 27th: Vilnius
August 29th: Minsk
And there is an important change!
Our meeting point in Minsk has been changed. Now we will be waiting for you in the "Brugge" club at the following address:
Meeting points in all other cities have not been changed:
All meetings will start at 18:00 local time.
Many of you were curious about who of the development team you have a chance to meet in real life. We tell 
 They will be waiting for you:
Maxim Khusainov – better known to you as Kasim
Maria Nemirskaya – the star of the video blog
Nikolai Kolotov – not a single meeting can be done without him
Alexandra Nozhenko – head of the community managers department
Alexandra Agapova – German locale community manager and project content manager
You are also familiar with both Alexandras from the V-LOGs 
At the meeting we will be answering your questions about the game and will tell you interesting facts about the future. As well, you will be able to win a lot of gifts in the quiz, take cool selfies and participate in the Nokia 3.2 smartphone giveaway from our partner — Nokia.
And of course, everyone who bought the Tanki Trip 2019 kit in the Shop and will show a personal QR-code at the meeting, which can be found on the email linked to the account, will receive a random XT-skin which you don't have yet or 500,000 crystals, if the entire collection of an elite line of skins has already been collected.
And if for some reason it is impossible for you to attend any of the meetings (is this really impossible?) – at the end of Tanki Trip, on September 2, we will giveaway the Nokia 4.2 smartphone on a livestream using a randomizer and 3 tankoin prizes among those who bought the Tanki Trip 2019 kit in the Shop.
In general, there will be many prizes. Leaving without a memorable gift will be very difficult.
Come, it will be cool!
Old Announcement with IMPORTANT information about Tanki Trip 2019 Bundle
Discuss in the forum