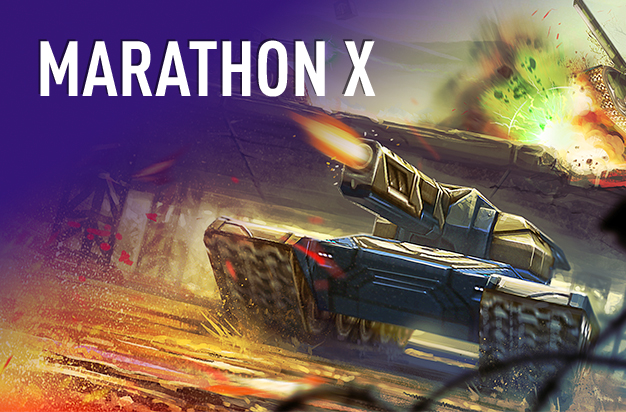 Tankers!
It's been one crazy marathon, and now it's time to announce our winners.
As promised, there are some really cool prizes for those who managed to climb to the top of the heap.
So, here they are.
1st Place – the_real_one with 24 Points
Rewards: Prestigio Grace 3201 4G tablet; 200000 Crystals; 25 Containers
2nd Place – exitus746 with 23 Points
Rewards: JBL Flip 4 speaker; 150000 Crystals; 20 Containers
3rd Place – Shibe with 21 Points
Rewards: Interstep SBH-520 headphones; 120000 Crystals; 15 Containers
4th Place – metrix1 with 21 Points
Rewards: Marshall Major II Bluetooth headphones; 100000 Crystals; 12 Containers
5th Place – NO97_STYLES with 18 Points
Rewards: Xiaomi Amazfit Cor 2 smartwatch; 80000 Crystals; 10 Containers
6-10th Place – mummo66, Intellect, Diary, T.e.n.z.i.n, MrThunder
Rewards: Any animated paint (available from containers); 70000 Crystals; 8 Containers
11-20th Place – BlutroteKobra, meetfighter1, adab_online, LaszloHunor, Troop10_RTL, june1st2019, Twins_XT_the_Dark, Taspen, kloodyzz, Hypnotist
Rewards: 30000 Crystals; 5 Containers; 7 Days of Premium
21-50th Place – racerwq, thunderhunter123, Nihon, Giorgi, RedRose, Volturo, adhik123, Gabri6, Walking.Dead, deadpoolt22, Healthy, Reuse, phoenix_bird, Bydo, Apost, GhulamRasool2nd, S00RY, HeIIboz, Demon5432, PAKISTANI-THE-LEGEND, Jumper, Dayfly, MihirTheVITian, Ms.Byzantium, Given, S.M.S.M, zuker_POLSKA, kaisdf, See.You.Next.Time, Espoir
Rewards: 20000 Crystals; 3 Containers; 5 Days of Premium
51-100th Place – PAC-MAN, nikil20002, Kaato, aketzali16, W11, The_Samuil, SH4DOWTH4RUN.SK, Muscles, Saybot_GT, Diverse, Unique, SteelStorm, skills_from_isida_2, Andromeda5, Z.Y.Z.Z, thekillex, iHackUrGold3, Leek, ayyaz11.96, tankifraz_rtl, Noob_Like_Me, OnlyGodCanJudgeM_e, Cool_Is_Back, Mrs.L.O.Y.A.L, ooooyeeea, Ivar, GG_reg, Tigrisc, Waldfrucht63, Who_Is_NexT, ranki00, tanks48, Drug, HunterGB, Marines, THE_MK, Szefo, JackyZhu, XanDer, Groonter, l3roken, Dado, CKOOIMA, Haiii_tanker, The_Pakistani, Affluent, SpacePirate, Syed.Asjad.Raza.Shir, Latvian_Noob, M-o-R-t-U-a-R-y
Rewards: 10000 Crystals; 1 Containers; 3 Days of Premium
Additionally, any players who earned at least 3 points, will be entered into a raffle where we'll be giving away a Dream Tank consisting of a turret, hull and a module, all fully-upgraded and at the maximum modification available at the participant's rank in the game.
That means the following players will also getting a shot at winning the tank of their dreams!
M.I.N.O.A.N, The_Specialist, Stone_Cold, Serpeant, 23.Quinix, B_O_G_A_T, czajo999, lukas11175
Prizes will be awarded within the next 48 hours. For physical prizes, winners will be contacted for their mailing address.
The winner of the Dream Tank will be drawn in the Grand Stream on Monday 1st at 17:00 UTC.
Well done everyone and congratulations to our winners. We hope you had a great time with the Marathon X!
Discuss in the forum