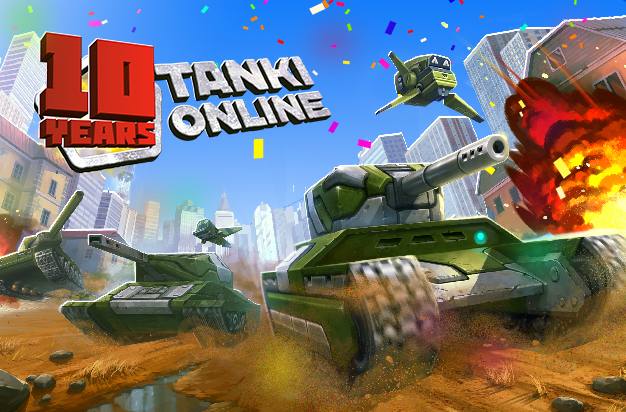 Event: Tanki Online's 10th Birthday
Duration: 9 days
Starts: Jun 1
Ends: Jun 10
---
Features: Discounts on Shop items, Garage items, Upgrades & Speed-Ups, Special Bundles, 3X Funds, Gifts (not available in mobile version), 20X Gold Drop Frequency (DM & JGR only) for 1 Day,  Special RARE Cake Golds worth TEN THOUSAND Crystals, Themed Decorations!
Important note: Unless otherwise stated, all events and activities start and end with the server restart at 02:00 UTC.
Tankers!
Tanki Online is celebrating its TENTH birthday. This calls for a MASSIVE party! And since you're the reason Tanki Online is still around, we've prepared some really cool stuff for you to have fun with.
Here's what you can expect in this year's celebrations, starting on Jun 1.
Discounts
Discount: 50% on Shop Crystals, Premium, Paints, Kits, Golds, Containers
Exceptions: First Crystals Pack, First Premium Pack, First Golds Pack, First Container Pack, Second Container Pack, Third Container Pack
Duration: 1 day
Starts: Jun 1 at 02:00 UTC
Ends: Jun 2 at 02:00 UTC
NOTE: Shop discounts are NOT available in the mobile version
Discount: 50% on Garage Turrets, Hulls, Modules, Alterations, Drones, Paints, Supplies, Batteries
Duration: 7 days
Starts: Jun 2 at 02:00 UTC
Ends: Jun 9 at 02:00 UTC
Individual Discounts: Turrets – Jun 2;  Hulls – Jun 3; Modules – Jun 4; Alterations – Jun 5; Drones – Jun 6; Paints – Jun 7; Supplies & Batteries – Jun 8
Every sale lasts 24 hours from server restart to the next server restart
Discount: 50% on Upgrades and 70% on Speed-Ups
Duration: 1 day
Starts: Jun 9 at 02:00 UTC
Ends: Jun 10 at 02:00 UTC
Holiday Bundles in the Shop
Got a keen eye for a great deal? Cool. We've created two special bundles that will set you ahead of the competition at a really affordable price.
These bundles will be exclusively available in the Shop for 9 days, starting from Jun 1.
Holiday Bundle 1
5 Containers
300 of each supply (excluding Gold Boxes and Batteries)
100 000 crystals
Holiday Bundle 2
YAY 10! animated paint (only available in this Bundle and Containers)
15 Containers
25 000 crystals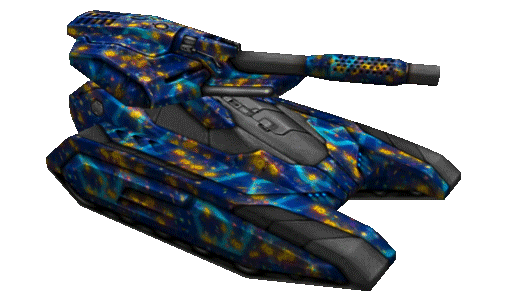 3X Battle Funds in MM battles
Get 3X funds for the same amount of effort!
For 6 days, starting from Jun 4, every matchmaking battle you finish, will reward you with 3X Battle Funds.
20X Gold Drop Frequency (DM & JGR only) for 24hrs in MM battles
Want more crystals? No problem. For 24hrs, starting with the server restart on Jun 4, Gold Boxes will be dropping a whopping 20X more often in Deathmatch and Juggernaut battles (matchmaking battles only). But you'll have to fight hard to get them!
Special RARE Cake Golds worth TEN THOUSAND Crystals
Yes, you read that right. Throughout June, a rare cake-shaped Gold will be dropping in all MM-battles, and it will contain… TEN THOUSAND crystals. That should make for some interesting pile-ups!
Themed Decorations
From Jun 1 to Jul 1 (30 days), we'll have "10th Birthday" themed decorations in the game — billboards, parachutes, flags, Gold Box skin, Gold Box drop zones and more.
Additionally, for 30 days (from Jun 1 to Jul 1) we'll have themed garage decorations prepared especially for Tanki Online's 10th Birthday.
Special Gifts (not available in mobile version)
And if you want to share the fun with your friends, you can even send them special themed gifts:
=== Commemorative Badge ===
A special badge to be worn with pride by those who were present for Tanki's 10th Brithday celebration.
=== 10th Birthday Cake ===
TEN times as awesome, TEN times less calories (because digital won't ruin your abs). Celebrate Tanki's 10th Birthday by sharing this virtually tasty cake with your fellow tankers.
=== Commemorative Stamp ===
Semyon Strizhak, a key figure in Tanki Online's development for many years, immortalized (to his great reluctance) on this commemorative stamp. Lick it, and it tastes like hazelnuts. Actually, no, don't do that.
Other Cool Stuff – Maps and the new Brutus Drone
What? You want MORE STUFF???
Ok, challenge accepted.
Here are some more awesome goodies for you, which will remain in the game even after the birthday celebrations are over.
With the Birthday update, we're also releasing new maps and a brand new Drone for your collection.
We have reworked versions of Stadium and Chernobyl for Matchmaking, as well as a new map called Chernushka – named after a picturesque little town in the south of the region. Chernushka also has an interesting history that is actually related to Tanki Online. But, that's a story for another time.
Additionally, we're releasing the brand new Brutus Drone.
Brutus does not have any special powers, but it's awesome in a different way.
For starters, it becomes available for purchase BEFORE any other drone, costs less, and is also cheaper to upgrade. It grants you two very simple but important boosts — increased damage and increased protection. The difference here is that these boosts are double those of regular drones — from 1 to 10 percent, depending on the upgrade level.
Now you can finally start standing up to all the bullies in the arena.
And to conclude, all of the rewards from the May Challenge are now available from containers. This means that your next container could drop the legendary Viking and Thunder Prime Skins, Hammer shot effects, as well as the cool paints Obsidian, BubbleGum and Galaxian Explosion.
So, get ready for a ton of fun starting on Jun 1, and don't forget to check out the complete calendar of events (including special contests with MASSIVE prizes) right here.
Discuss in the forum