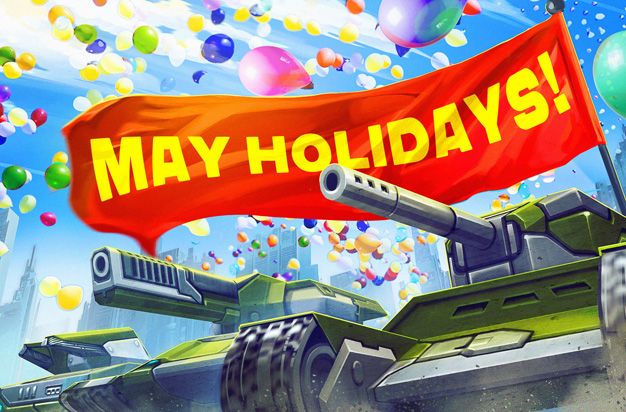 Event: May Day
Duration: 12 days
Starts: 02:00 UTC on May 01
Ends: 02:00 UTC on May 13
Features: Discounts on Shop items, Garage items, Upgrades & Speed_Ups, Special Bundles, X2 Funds, Gifts (not available in mobile version), Themed Decorations!
---
Tankers!
When someone screams "May Day", it usually means they're in trouble. But May Day in Tanki Online means 12 days of fun and goodies.
Here's what you can expect in this year's celebrations, starting with the server restart at 02:00 UTC on May 01
Discounts
Discount: 30% on Shop Crystals, Premium, Paints, Kits, Golds
Exceptions: First Crystals Pack, First Premium Pack, First Golds Pack
Duration: 2 Days
Starts: May 04 at 02:00 UTC
Ends: May 06 at 02:00 UTC
NOTE: Shop discounts are NOT available in the mobile version
Discount: 30% on Garage Turrets, Hulls, Modules, Alterations, Drones, Supplies, Batteries
Exceptions: Paints
Duration: 6 Days (one category per day – see details below)
Starts: May 06 at 02:00 UTC
Ends: May 12 at 02:00 UTC
Individual Discounts: Turrets – May 06; Hulls – May 07; Modules – May 08; Alterations – May 09; Drones – May 10; Supplies & Batteries – May 11
Every sale lasts 24 hours from server restart to the next server restart
Discount: 30% on Upgrades and 50% on Speed_Ups
Duration: 1 Day
Starts: May 12 at 02:00 UTC
Ends: May 13 at 02:00 UTC
Holiday Bundles in the Shop
Got a keen eye for a great deal? Cool. We've created two special bundles that will set you ahead of the competition at a really affordable price. These bundles will be exclusively available in the Shop for the duration of the festivities (12 days).
Holiday Bundle 1
5 Containers
300 of each supply (excluding Gold Boxes and Batteries)
100 000 crystals
Holiday Bundle 2
The Golden Gears animated paint (only available in this Bundle and Containers)
15 Containers
25 000 crystals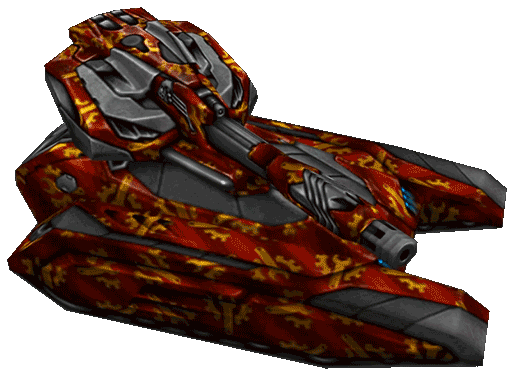 Increased Battle Funds in MM battles
Get twice the reward for the same amount of effort!
Every matchmaking battle you finish during the 12-day festivities will reward you with X2 Battle Funds.
Themed Decorations
All throughout the festivities, we'll have special themed decorations in the game — themed billboards, parachutes, flags, Gold Box skin, and Gold Box drop zones.
Special Gifts (not available in mobile version)
And if you want to share the fun with your friends, you can even send them special themed gifts — Ribbon of Valor, Tanker's Helmet, and The Eternal Light
So, get ready for a ton of fun, starting from 02:00 UTC on May 01!
Discuss in the forum