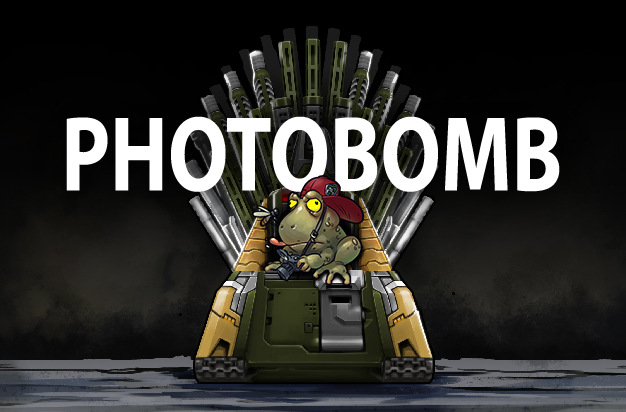 Tankers!
Prepare your photo-editing skills! As part of our events calendar for April, we're launching a themed contest — "Photobomb". You can win loads of crystals, containers and paints.
Let's see how creative and funny you can be!
How to participate:
Download the image we've provided, and do something entertaining with it. It can be a photomontage, a collage, a comic or any other funny idea you can come up with. Get the image here
Write your nickname on your piece of digital art.
Upload your work to a suitable image hosting service, and then submit the image link together with your nickname, in this special form.
Our judges will pick their favorite entries based on originality, humor and artistic skills.
Prizes:
1st place: 100,000 crystals, 30 containers and "LOL" animated paint
2nd place: 90,000 crystals, 25 containers and animated flow paint
3rd place: 80,000 crystals, 20 containers and any Garage paint of your choice
4th place: 70,000 crystals and 15 containers
5th place: 60,000 crystals and 14 containers
6th place: 50,000 crystals and 13 containers
7th place: 40,000 crystals and 12 containers
8th place: 30,000 crystals and 10 containers
9th place: 20,000 crystals and 9 containers
10th place: 10,000 crystals and 8 containers
Honorable mentions will receive a consolation prize of 10,000 crystals each.
Deadline for submission is 20:00 UTC on April 14th.
Winners will be announced on April 16th during the day.
Now, prepare to fire up your creativity!
IMPORTANT RULES
By participating in this contest, you agree that the rights to any content you submit for this event are automatically transferred to the organizer of the contest in accordance with paragraph 8.3. or the End User License Agreement: http://tankionline.com/ru/eula.
You may only submit work that you have created yourself. Any submissions found to contain material by a third party will be disqualified. The only exceptions are royalty-fee materials or materials for which you have bought the right to use in this kind of event.
Discuss in the forum