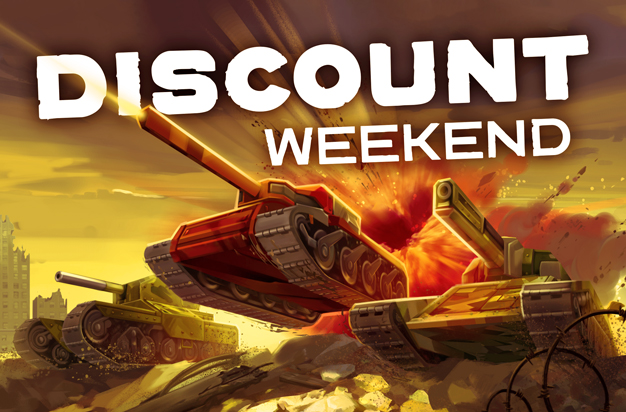 TL;DR: Three days of discounts, x2 funds and x2 drop rates for Gold Boxes are coming your way, starting from 02:00 UTC on March 22nd! Details below.
---
Tankers!
The name says it all. Three days of discounts: Shop on Friday, Garage on Saturday, and Upgrades on Sunday.
Additionally, for three full days, we'll have:
Double Battle Funds
Double drop rate for Gold Boxes
A special Holiday Bundle
Get ready for an amazing weekend!
---
Details
Discount: 25% on Shop Crystals, Premium, Paints, Kits, Golds
Exceptions: First Crystals Pack, First Premium Pack, First Golds Pack
Duration: 1 day
Starts: Mar 22 at 02:00 UTC
Ends: Mar 23 at 02:00 UTC
Discount: 25% on Garage Turrets, Hulls, Modules, Alterations, Drones, Supplies, Batteries
Exceptions: Paints
Duration: 1 day
Starts: Mar 23 at 02:00 UTC
Ends: Mar 24 at 02:00 UTC
Discount: 25% on Upgrades and 50% speed-ups
Duration: 1 day
Starts: Mar 24 at 02:00 UTC
Ends: Mar 25 at 02:00 UTC
Holiday Bundle
Contents: 5 Containers, 300 of each Supply (excluding Gold Boxes and Batteries), 100 000 Crystals
Discuss in the forum