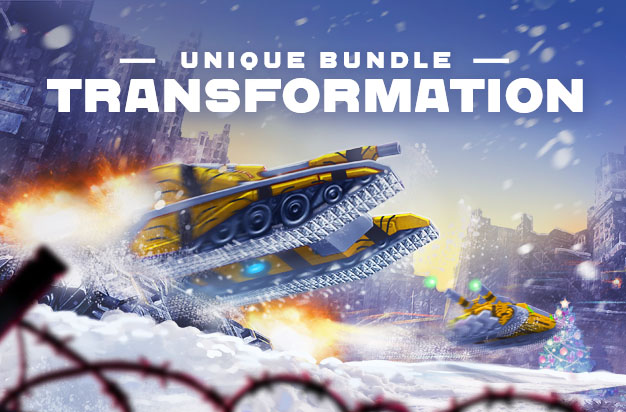 Tankers!
The most dangerous tankers are the one that everybody takes for granted. They look weak and inexperienced… but when it's time to face the enemy, they show their true strength and emerge victorious.
If you're one of those players who are still looking for the greatness within, then the Transformation bundle is for you.
This unique bundle contains:
The Yellow Bug animated paint – "Sometimes, great things lie hidden in the most humble and unpretentious things. This paint is for tankers who are just waiting to unlock their potential — to transform… into an unbeatable battle machine, just like that old, yellow bug in the scrapyard."
The Golden Bullet shot effect for Ricochet.
MUST READ — IMPORTANT INFORMATION ABOUT THE TRANSFORMATION BUNDLE
This Transformation Bundle is available from 02:00 UTC on Wednesday 19th December in the Shop for 14 DAYS ONLY. When it's gone, it's gone FOREVER.
The Yellow Bug paint is EXCLUSIVELY available in the Transformation Bundle, nowhere else — not in containers, not in the Garage. And once the bundle is gone, nobody else will be able to buy the Yellow Bug animated paint.
There are ONLY 5000 Transformation Bundles available for purchase. When they finish, they will NEVER come back.
So, check out the Transformation Bundle, which includes the new Yellow Bug unique animated paint and the Golden Bullet shot effect for Ricochet.
You can buy the bundle as well as learn all the details about it (including its contents, screenshots, videos, and how many bundles are left) on this special page.
It's time for you to find the greatness within, and transform into the ultimate battle machine.
Details
Item: Transformation Bundle
Contains: Unique Yellow Bug animated paint; Golden Bullet shot effect for Ricochet
Duration: 14 days — Only 5000 units available
Starts: 02:00 UTC on Wednesday 19th December 2018
Ends: 02:00 UTC on Wednesday 2nd January 2019, or when 5000 units have been sold — whichever happens first
Price: €22.49 only
Discuss in the forum