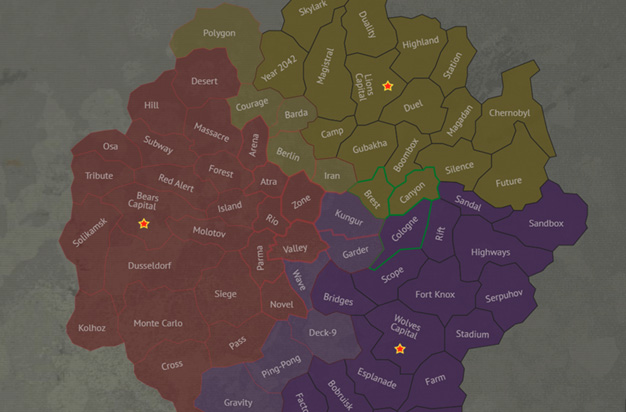 Tankers!
The War in Tanki Online is heating up, and Turn 5 ended earlier today. How it went and what changes happened on the War map we'll tell you right now.
Each faction was successful in capturing one Vault. Bears got Desert, Lions — Future, and Wolves — Gravity. All participants, who has chosen to attack the territory, already got 15 containers in addition to the star rewards. No enemy territories were captured, as main forces were occupied with fighting for the Vaults.
And regarding the Victory Points, there's now a leader in the War: Bears faction at the end of turn 5 now have 72 VPs. Second place currently goes to the Wolves, with 61 point and on the third place are Lions with 59.
What comes next? Now factions will need to fight each other, since no neutral territories are left. Will the Bears hold the leadership or pass it to another faction? We'll know tomorrow!
Participate in the War, play actively in battles and earn stars (and don't forget to vote and confirm your choice on the site). Player contribution is what leads the faction to victory!
Discuss in the forum