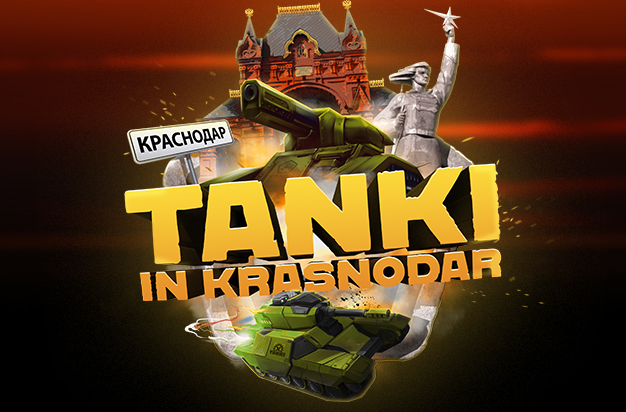 Tankers!
Tankers meetup in Krasnodar will happen very soon — September 8th — and it will last for close to 5 hours.
All guests of the event will have a chance to talk to the developers, hear answers on the most pressing questions, participate in contests and quizzes about the game and, of course, win tons of cool prizes! This time we have partnered up with Canyon who makes awesome gaming gadgets and Prestigio brand know for their tablets. It's gonna be super fun!
Special in-game kit "Tanki in Krasnodar", which we talked about in the last announcement, will appear in the Shop tomorrow already, 02:00 UTC on August 25th, and it will remain up for sale until the day of the meetup.
Purchasing the kit, you will get 3 bonuses:
1. In-game items:
"Picnic" paint;
10 containers;
300 batteries.
2. Chance to win a mountain of crystals
With each purchased "Tanki in Krasnodar" kit a special crystal fund will be increased by 20,000 crystals, and with every 500,000 crystals in the prize pool the number of winners will be increased by 1. On September 13th, after the tankers meetup, we will run a giveaway for all who bought the kit, and somebody among the tankers can become a real crystallionaire!
You can track how big the prize pool is on the special site. Of course, the crystal fund will start to grow only after the first kit will be purchased, so right now it's 0 crystals in there.
3. Gifts from Tanki Online
Each tanker that will buy the kit and comes personally to the meetup will be able to win a prize — a Tanki t-shirt, gadget from Canyon or a Prestigio tablet, and other bonus prizes. These prizes will be given away randomly among the guests of the event. To participate in the giveaway you will need a special QR-code which will be sent to your email attached to your account after the purchase of the kit.
IMPORTANT: please check that you have an email attached to your game account and you have full access to the email. QR-code will be sent to the email you have attached to the account or specified at the kit's purchase.
Emails with QR-codes will come from the address no-reply@tankionline.com and can be put into the Spam folder, don't forget to check it!
You will need to show QR-code on your phone or printed out at the meetup.
Do NOT show the code to anyone, especially until you get the prize, or some might get your gift before you.
Come to the meetup, participate in the giveaway and win prizes!
See you at the meetup in Krasnodar!
Discuss in the forum