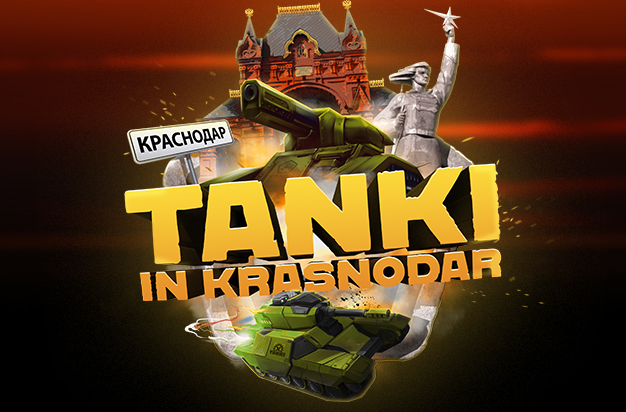 Tankers!
This year we're organizing a new tankers meeting, and it's going to take place in Krasnodar at the beginning of September, and with the meeting we're also releasing a special kit!
"Tanki in Krasnodar" kit
Many of you have probably guessed already what it is, remembering Tanki in Moscow of the last year. Back then, we've made a unique paint to commemorate the event, and it was clear that not everyone who wants to get the paint will be able to attend the meetup, that's why we created a special kit with the paint and other in-game bonuses.
The same will happen this time too! Shortly before the event new kit will appear in the Shop with the special paint made for the tankers meetup in Krasnodar and a set of different bonus items. We'll talk in more detail about the kit in one of the coming announcements.
Everyone will be able to purchase the kit.
Crystal Fund
After buying "Tanki in Krasnodar" kit you will not only get the unique paint and other bonuses, but also help increase the special crystal fund.
With each purchased kit the fund will be increased by 20,000 crystals, and it will be divided among the winners of a special giveaway for those who have purchased the meetup kit.
The number of winners in the giveaway will depend on the size of the fund: the more crystals it has, the more winners there will be.
One more thing: if you have purchased the kit and came to the tankers meetup in Krasnodar, you will also get an additional prize from Tanki Online or our partners at Canyon.
Follow the news and we'll share more details on the event soon!
Discuss in the forum