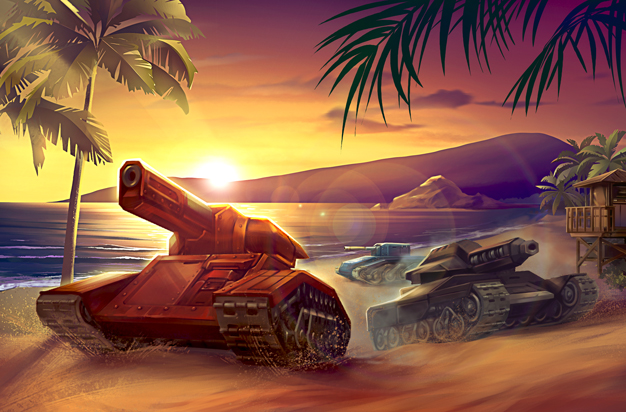 Tankers!
It doesn't matter whether you're more of a fan of the beach and sea, or skis and snow. What matters is that the change of season is here, and it's the perfect opportunity for us to have a celebration.
So, here's what you can expect this weekend, from 02:00 UTC on Saturday 26th, till 02:00 UTC on Monday 28th.
Discounts on Shop and Garage items
There's no such thing as a celebration without discounts, and of course we've got you covered for both days!
On Saturday, we'll be having 20 to 50 percent discounts on Shop items. Remember, if you have a bonus card for crystals, Premium (excluding 1 day package), or Gold Boxes (excluding 1 Gold Box package), it WILL stack up with the discount, so you'll be getting an awesome deal.
On Sunday, it's garage discounts.
Prices on turrets, hulls, modules and alterations, will be slashed by 30%. Micro-upgrades will get 25% off, while speed-ups will get 50% off.
Additionally, on both days, garage paints, supplies and in-game gifts will be at 30 percent off.
IMPORTANT: Sales do not apply to Clan Licenses and XT items.
Gold Boxes dropping 5X more often
Whether you're an avid gold hunter or just a casual one, you'll be having a great time catching golds this weekend, because they will be dropping 5X more often… in ALL battles!
NOTE: If you disable Gold Boxes in a PRO battle, you will also be disabling this feature.
Tougher Missions, bigger rewards
If you're up for a challenge, throughout the weekend there will be three special missions that will be tougher to complete, but will bring you much bigger rewards (any rewards must be claimed before August 28th).
As always, these missions can only be completed in non-PRO battles. But don't let that discourage you. We assure you that the reward is more than worth the effort!
So, make sure you log in early this Saturday 26th, and get ready for 48 hours of discounts, Gold Box hunting, and intense battles this weekend!
For the full discounts calendar, please check the official forum announcement.
Discuss in the forum