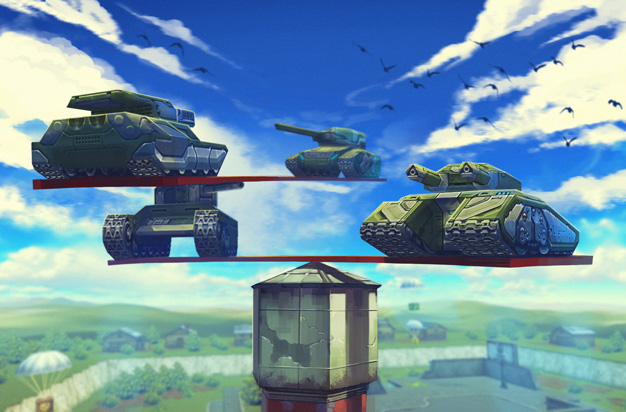 Tankers!
This morning's server restart at 02:00 UTC brought lots of cool and interesting changes to the game.
To start off, we've made a number of balance changes for turrets and alterations. We won't go into the details here, but you can find out all about the changes and why they happened in this special video by Lead Game Designer Semyon Strizhak aka Hazel-Rah.
P.S. Make sure you turn on subtitles.
Additionally, we have some great news for Premium users, who will now be receiving a daily bonus of 2500 crystals, 3 Repair kits, and 10 of each of the other supplies (with the exception of gold boxes). This bonus is constant and is not connected to rank. Of course, to get the maximum benefit out of your Daily Bonus, you will need to log in and claim it every day.
The update also brings a new type of Daily Mission where you have to earn crystals in battle. Some missions will require you to do so in a specific game mode such as CTF, while others will allow you to do so in whichever mode you wish.
Additionally, following your feedback, the Communicator Panel now remembers the last tab you were using, so you no longer have to switch from News to Chat every time. Of course, we still don't want you to miss any important news, so if any new alerts come up while you're away, the Communicator Panel will automatically show you the News window next time you log in.
NOTE: The News panel will automatically be displayed as long as there are unread alerts. To mark an alert as «read», simply click on it.
And finally, among the smaller changes, we've got a newly designed flag for CTF and a bunch of small fixes. As always, you can find the full details in the Patch Notes.
So, don't forget to check out the changes in the game, and tell us what you think in the forum!
Discuss in the forum