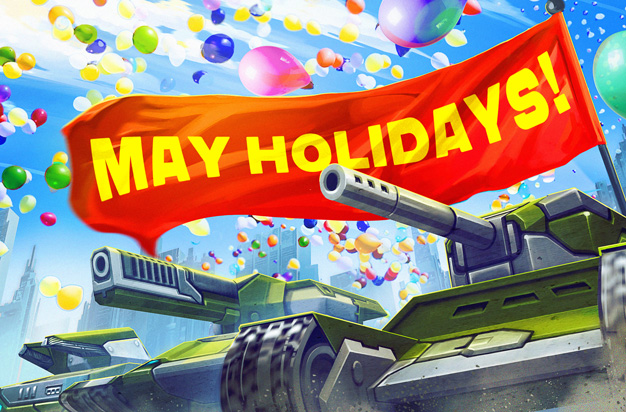 Tankers!
The change of weather brings with it one of the most highly-anticipated festivities in Tanki Online — the May Holidays. And this year, we're treating you to 11 days of discounts, themed decorations and goodies, increased Battlefunds, special missions, and something EXTRA special — a cool new feature to spice up your battles (more on that later in the announcement).
Here's that you'll be enjoying from 02:00 UTC on April 29th, till 02:00 UTC on May 10th.
Discounts
First of all, in-game gifts, garage paints, and garage supplies will be at 30% off throughout the celebrations.
Additionally, we're kicking off AND ending our celebrations with 30% off Micro-Upgrades and Speed-Ups for 24 hours. We've split these up so that even if you don't want to use Speed-Ups, you can still get at least two Micro-Upgrade slots on the cheap.
Of course, we also have 30% discounts on Shop items, Hulls, Modules, Turrets and Alterations for 24 hours on separate days. As always, discounts do not apply to Premium, XT Turrets, XT Hulls, XT MUs, Clan Licenses, Garage Supplies Kits, and the Holiday Bundle.
To make sure you don't miss any of the sales, please check out the complete calendar of discounts at the end of this announcement.
Increased Battle Funds
Starting from 02:00 UTC on May 1st, we'll be having increased Battlefunds in the game as follows:
1.25X Battle Funds for 72hrs, from 02:00 UTC on May 01 till 02:00 UTC on May 04
1.5X Battle Funds for 48hrs, from 02:00 UTC on May 04 till 02:00 UTC on May 06
1.75X Battle Funds for 48hrs, from 02:00 UTC on May 06 till 02:00 UTC on May 08
2X Battle Funds for 48hrs, from 02:00 UTC on May 08 till 02:00 UTC on May 10
So, you're guaranteed lots of extra crystals for every battle you finish!
NOTE: Increased Battlefunds will not apply in PRO Battles.
Special Missions
Throughout the celebrations, we'll be having two extra challenging missions that will reward you with bigger prizes. As always, missions can only be completed in regular, non-PRO Battles.
NOTE: Daily Missions must be completed and their prizes collected before 02:00 UTC on May 10th or they will be lost.
Gold Boxes
Of course, there can't be a celebration without Gold Boxes, so all through the event, Golds will be dropping twice as often (Gold Boxes will have the standard value of 1000 crystals).
Holiday Bundle
If you're looking for an extra special treat for yourself, the Holiday Bundle (exclusively available from the Shop from 02:00 UTC on April 30th to 02:00 UTC on May 10th), includes some great goodies:
Premium Paint (only available in this bundle)
3 days of Premium account
5 Gold Boxes
60 of each supply (with the exception of gold boxes)
100 000 crystals
And remember, Premium now gives you a Daily Bonus of 2500 crystals, 3 Repair kits, and 10 of each of the other supplies (with the exception of gold boxes). You will receive this bonus for every day that you log into the game while your Premium account is active.
Themed Decorations
And finally, all through the celebration, we'll have themed decorations including themed billboards on all maps, themed parachutes, flags, gold box skin and drop zone, special themed gifts, a free holiday paint (which you can purchase for crystals if you wish to keep it forever), and a Premium holiday paint (only available in the Shop as part of the Premium bundle).
New Special ZERO Supply Mode
The ZERO supply feature is a new game mechanic that will be in the game for the duration of the May Holidays.
Here's how it works. At the bottom of your screen, you will see a progress bar. The bar will start at 0% when you enter the battle, but as you help your team with kills, heals and captures, it will start to fill up.
Once the ZERO Supplies progress bar is full, pressing the Shift key will activate ALL 5 of your supplies (except gold boxes) — your hit points will be restored, Double Damage, Double Armor and Speed Up will be activated, and you will drop a mine. Additionally, all of your teammates close by, will get the same effect. And more importantly, it will NOT cost any of you any supplies!
NOTE: Since this is the first time we're using this feature, our developers and analysts will be closely observing its effect on the game to make sure it's not ruining the game for anyone, and may decide to make changes to the way it works. Also, ZERO Supply mode will only work in NON-PRO battles.
So, make sure you log into the game early tomorrow to start enjoying our May celebrations and test the new ZERO Supply mode that we created especially for the event!
And of course, don't forget to tell us what you think in the forum.
Discounts Calendar
Discount: 30% on In-game gifts – NOW ON
Duration: 11 Days
Starts: Apr 29 at 02:00 UTC
Ends: May 10 at 02:00 UTC
Discount: 30% on Garage paints – NOW ON
Duration: 11 Days
Starts: Apr 29 at 02:00 UTC
Ends: May 10 at 02:00 UTC
Discount: 30% on Garage supplies (excluding Garage Supplies Kits) – NOW ON
Duration: 11 Days
Starts: Apr 29 at 02:00 UTC
Ends: May 10 at 02:00 UTC
Discount: 30% on SHOP items (excluding Premium account, Clan licenses and Holiday Bundle) – Expired
Duration: 24hrs
Starts: Apr 29 at 02:00 UTC
Ends: Apr 30 at 02:00 UTC
Discount: 30% on Micro-Upgrades and 30% on Speed-Ups (excluding XT items) – Expired
Duration: 24hrs
Starts: Apr 29 at 02:00 UTC
Ends: Apr 30 at 02:00 UTC
Discount: 30% on Hulls (excluding XT items) – Expired
Duration: 24hrs
Starts: May 02 at 02:00 UTC
Ends: May 03 at 02:00 UTC
Discount: 30% on Modules – Expired
Duration: 24hrs
Starts: May 03 at 02:00 UTC
Ends: May 04 at 02:00 UTC
Discount: 30% on Turrets (excluding XT items) – Expired
Duration: 24hrs
Starts: May 04 at 02:00 UTC
Ends: May 05 at 02:00 UTC
Discount: 30% on Alterations – Expired
Duration: 24hrs
Starts: May 05 at 02:00 UTC
Ends: May 06 at 02:00 UTC
Discount: 30% on Micro-Upgrades and 30% on Speed-Ups (excluding XT items) – NOW ON
Duration: 24hrs
Starts: May 09 at 02:00 UTC
Ends: May 10 at 02:00 UTC
Increased Battlefunds Calendar
1.25X on Battle Funds – Expired
Duration: 72hrs
Starts: May 01 at 02:00 UTC
Ends: May 04 at 02:00 UTC
1.5X on Battle Funds – Expired
Duration: 48hrs
Starts: May 04 at 02:00 UTC
Ends: May 06 at 02:00 UTC
1.75X on Battle Funds – Expired
Duration: 48hrs
Starts: May 06 at 02:00 UTC
Ends: May 08 at 02:00 UTC
2X on Battle Funds – NOW ON
Duration: 48hrs
Starts: May 08 at 02:00 UTC
Ends: May 10 at 02:00 UTC
Discuss in the forum