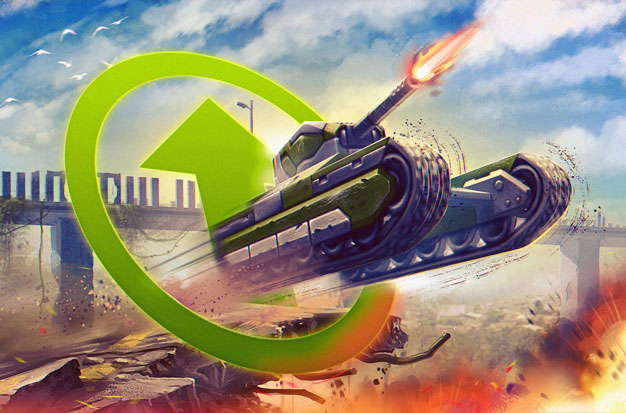 UPDATED
Check out the final results for the Special Weekend Giveaway on the official forum topic.
---
Tankers!
Scrap all your plans for this weekend, because you're in for a fun couple of days in Tanki Online.
First of all, from 02:00 UTC on Saturday 15th, till 02:00 UTC on Monday 17th, all non-PRO battles will give you DOUBLE BATTLE FUNDS. That's twice as many crystals for every battle you finish.
If that's not enough to get you excited about blowing your enemies to bits, we've got more! Your kills can get you Gold Boxes and Protection Modules, as well as a chance to win your preferred piece of equipment.
Here's how that will work.
The giveaway will be held over two days:
Day 1 — 21:00 UTC on Friday 14th April till 20:59 UTC on Saturday 15th April
Day 2 — 21:00 UTC on Saturday 15th April till 20:59 UTC on Sunday 16th April
Just like the Striker and Magnum giveaways, you'll need to make a quota of kills on either one of those days. Different kill tiers will give you different rewards.
Kill Tier 1: 250 kills – 3 Gold Boxes*
Kill Tier 2: 700 kills – 5 Gold Boxes*
Kill Tier 3: 1200 kills – 10 Gold Boxes + any protection module of your choice (available for purchase)
* Please make sure you read the terms and conditions as they contain very important information about the contest
Additionally, we'll be randomly choosing two tankers, one from Saturday and one from Sunday, who made more than 700 kills. These two lucky players will receive their chosen turret, hull or protection module available at their level, and fully upgraded. And yes, that includes XT items.
The nicknames of the lucky winners will be announced daily. We'll also be announcing the number of tankers who have hit each reward tier.
So, make sure you log in early tomorrow and get ready for a weekend of frantic action, big funds, and cool prizes!
Terms and Conditions
Protection Modules awarded for 1200 kills will be non-upgraded stock versions from the selection of modules available for purchase in the garage.
None of the prizes may be exchanged for crystals
Gold Boxes will only be awarded to players ranked Warrant Officer 1 or higher during the giveaway.
The rewards for each tier do not add up. Therefore, players will be able to get a maximum of 10 Gold Boxes throughout the giveaway.
You can only receive the reward for each tier once during the 2 days. Hitting the same tier on multiple days will not bring you additional tier rewards BUT will increase your chances of being chosen and receiving your chosen piece of equipment if you're making more than 700 kills.
The kills must be made in regular, non-PRO battles joined by pressing the «Battle» button, or in non-PRO battles picked from the battle list. Kills in PRO Battles will NOT count.
Kills will be counted from 21:00 UTC till 20:59 UTC the next day.
The randomly-picked winners will be given their chosen equipment on the next day.
Tier prizes (golds and stock modules) will be handed out within 48 hours of the end of the giveaway.
The daily winners will be drawn randomly from the previous day's qualifying players, using a random number generator.
The player who is picked in the first day of the giveaway, will be not be eligible to be picked again for the second day of the event.
Discuss in the forum