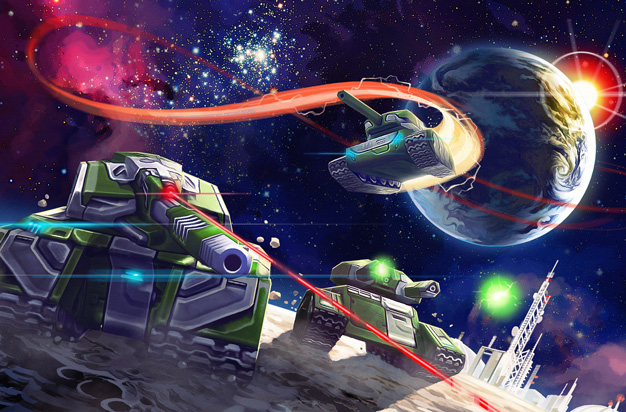 Tankers!
Tomorrow, the world celebrates Cosmonautics Day to commemorate the first manned space flight in the history of humanity.
We'd like to invite you to celebrate this event with us in Tanki Online, so starting from tomorrow, April 12th, at 02:00 UTC, for 24 hours, we've prepared some cool stuff for you. Here's what's coming your way:
Very Special Maps & Daily Missions
If you've been around long enough, you might remember the Moon Silence map that was removed a few years ago. This map was a huge favorite because it featured reduced gravity, which made it a ton of fun to play.
The great news is that for the durations of these celebrations, we'll be bringing back the Moon Silence map.
Additionally, in PRO Battles, you will be able to activate "Moon Silence mode" for any map. This mode will change the gravity of your chosen map, as well as add some really cool features. But you'll find out more about that tomorrow when you try it out.
Additionally, as per our tradition, we'll be having a number of extra challenging Daily Missions with special rewards.
NOTE: We'll also be making an important change to the Madness map. From tomorrow, the bottom floor of this map will be permanently removed to avoid long and boring falls. This was done with with the approval of the map's original designers.
Double Battle Funds
To make this celebration extra special, we're also having 24 hours of Double Battle Funds. This means that you'll be getting double the amount of crystals for every battle that you finish!
NOTE: Double Battle Funds will be available in both standard and PRO battles, so get ready to rake in some serious crystals!
Sales
We'll be having a 25% discount on all micro-upgrades and speed-ups (not applicable to XT items) for 24 hours. More importantly, if you've seen the recent announcement, you'll know that from tomorrow, M3 upgrades and speed-up prices will go down by 50%. The great news is that the 25% discount will apply to the new prices, so you're getting a discount on top of a discount!
Themed Decorations and Gifts
And of course, to get you into the mood for space travel, there will also be a free holiday paint (also available to purchase if you wish to keep it forever), as well as themed billboards, parachutes, flags, and gold box skin and drop zone. Plus, we've also prepared special themed gifts to share with your friends.
So, make sure you log in extra early tomorrow to take full advantage of the Double Battle Funds, enjoy all the decorations and special low-gravity maps, and check out the discounted prices for upgrades and speed-ups.
Remember, the celebration ends at 02:00 UTC on Thursday 13th!
Discuss in the forum