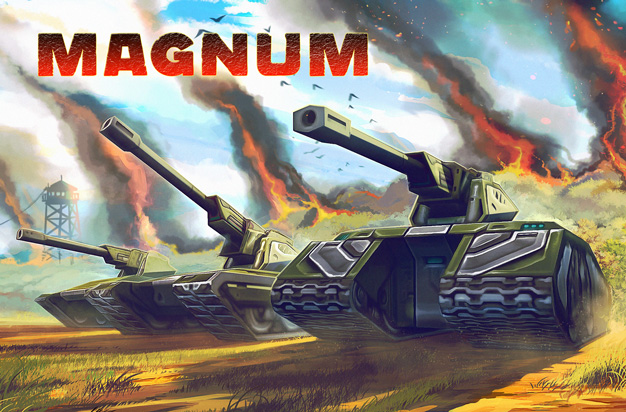 Tankers!
The new Magnum artillery turret will be hitting the game after tomorrow's scheduled server maintenance. To celebrate, we'll be giving away 7 fully micro-upgraded Magnum turrets, Protection Modules, and loads of Gold Boxes.
Here's how you can enter the giveaway:
Every day, from 21:00 UTC on Wednesday 22nd March, till 20:59 UTC on Wednesday 29th March, we'll be compiling a list of those players who have made a minimum of 250 kills, 500 kills, and 1000 kills during that day. For their skill and dedication in hitting these kill tiers, players will receive the following reward:
Kill Tier 1: 250 kills – 3 Gold Boxes*
Kill Tier 2: 500 kills – 5 Gold Boxes*
Kill Tier 3: 1000 kills – 10 Gold Boxes + the «Griffon T-F» Protection Module (resistance against Magnum, Shaft, Striker)
* see terms and conditions
But more importantly, every day we will randomly pick one tanker from the list of players who have made more than 500 kills. This lucky tanker will receive the new Magnum turret, fully micro-upgraded at his/her level!
The nicknames of the lucky winners of the Magnum turret will be announced daily. We'll also be announcing the number of tankers who have hit each reward tier.
So, start warming up your engines and oiling your turrets to enter our 7 day giveaway for the new Magnum turret and reward bundle!
Terms and Conditions
Gold Boxes will only be awarded to players ranked Warrant Officer 1 or higher during the giveaway.
Players who hit Kill Tier 3 (1000+ kills in a day) but do not have the required minimum rank for the «Griffon T-F» Protection Module, will instead receive 5000 crystals, which is the price in crystals for the module's M0 modification
The rewards for each tier do not add up. Therefore, players will be able to get a maximum of 10 Gold Boxes throughout the giveaway.
You can only receive the reward for each tier once during the 7 days. Hitting the same tier on multiple days will not bring you additional tier rewards BUT will increase your chances of getting the turret if you're making more than 500 kills.
You can only receive the Magnum turret once.
You can only receive the «Griffon T-F» Protection Module (or the equivalent price in crystals) once.
The kills must be made in regular, non-PRO battles joined by pressing the «Battle» button, or in non-PRO battles picked from the battle list. Kills in PRO Battles will NOT count.
Kills will be counted from 21:00 UTC till 20:59 UTC the next day.
Magnum turrets will be added every day, after the previous day's scores have been calculated.
«Griffon T-F» Protection Modules (or 5000 crystals for those players whose rank is too low for the module) will be added at the end of the giveaway.
Gold Boxes will be added at the end of the giveaway.
Magnum turret winners will be drawn randomly from the previous day's qualifying players, using a random number generator.
If you win the Magnum turret but already have it in your inventory, your Magnum will be fully micro-upgraded, and you will receive a refund for the crystals you spent on the turret.
Players who have already been picked in this giveaway and received the Magnum (or equivalent), will be not be able to be picked again for the duration of the event.
Discuss in the forum