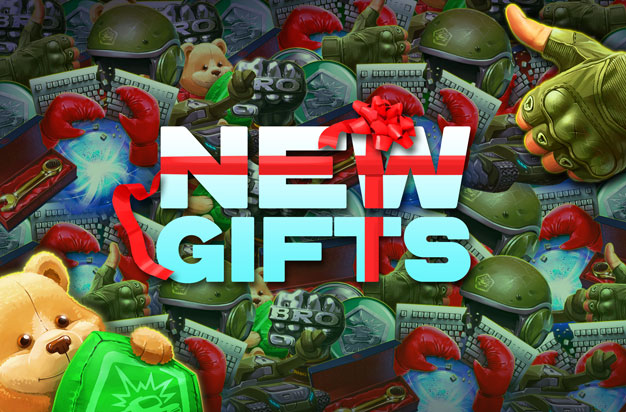 Tankers!
Throughout the New Year celebrations in Tanki Online, you sent each other hundreds of thousands of gifts. The feature turned out to be extremely popular, so we decided to bring it back. The good news is that it's in the game right now!
Tanki Online now features 10 gifts, perfectly suited for giving your best wishes to another tanker, congratulating them for a rank up or important achievement, cheering them up after a battle, or even confessing your feelings to someone you care about… there are numerous ways to use the gifts, and the only limit is your imagination!
"Badge"
Price: 200 crystals
A branded badge is the best way to tell a friend that he's a real tanker.
"Like"
Price: 1 000 crystals
Send a thumbs up to someone who has impressed you in a battle.
"Dislike"
Price: 1 000 crystals
A thumbs down is the perfect answer to anything you don't like.
"Bro!"
Price: 2 000 crystals
A Tanki statuette granting +1 to coolness.
"Helmet"
Price: 2 000 crystals
A tank helmet is an essential piece of equipment for any seasoned player.
"Teddy Bear"
Price: 2 000 crystals
The best way to confess your feelings to someone you care about.
"Claws"
Price: 2 000 crystals
When someone's hands are simply not meant to be used for playing video games…
"Tangled Turret"
Price: 2 000 crystals
Sometimes you just end up playing in the same team as these guys. That hurts, we know.
"Golden Wrench"
Price: 10 000 crystals
A golden wrench is the perfect gift, even for tankers with the most sophisticated taste.
"Blue Sphere"
Price: 100 500 crystals
The legendary Blue Sphere. Yep, this is it.
As before, you can accompany your gift with a custom text message.
What's cool is that we'll be adding themed gifts for all major holidays in Tanki, in addition to the standard ones.
That's it tankers. Enter the game right now and start handing out gifts, even if just for fun!
Discuss in the forum