| | |
| --- | --- |
| | Hey Tankmen!Catch up on the latest developers news on this column as we give a round up of all that has just been and will be shortly. This column will be published weekly. Sorry for the plenty of text but I assure you will not regret reading through. |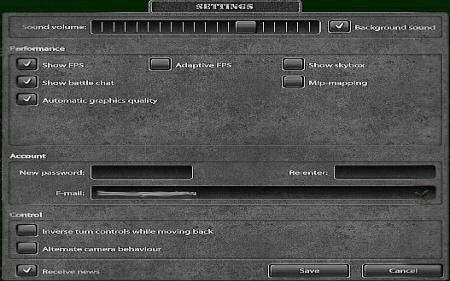 In our last update:
As we already know Tanki Online was updated to version 1.109.0.In this release we have worked thoroughly on how our game works with your e-mail.
So, an e-mail address during registration is now required.
Further in detail.The first innovation involves new recruits. Now when you register a new account, you first choose your own username and provide your e-mail,
and then we send you specified password to your e-mail account.
Advantages are obvious:
+ No more simple passwords for beginners. We ourselves will generate you a reliable key.
+ Account registration will be more difficult for those who choose to register a couple dozen accounts, because each of them will need a new e-mail.
+ Even if a newbe forgets his password, he can just look it up in his mailbox and remember it.
+ With such a registration the e-mail in the "Settings" will automatically be bound, as the player has entered the correct password,
meaning he looked it up in his mail box.
The second innovation involves already registered tankmen, whose e-mail addresses are already bound in the settings,
after the release they will be able to login using either their e-mail or nickname into to game! All just for your convenience!
=============================================================================
Still in the laboratory:
The rebalancing of all guns and tanks in the garage is underway, just imagine being able to play and win using a smoky or firebird gun against the ricochet or freeze.
The test server was open for all, just to test the rebalanced garage. Developments are still going on in the lab and we hope to see them in the game soon.
=============================================================================
In contests:
The parkour contest is open for applications up to the 7th of December 21:00 Moscow Time. The winners will be announced on the 9th of December.
Beautiful entries have beens coming in for the past week.
We are starting our traditional festive season contest. Yes! 20 seconds to new year, follow the news and dont miss it.
=============================================================================
In sports news:
To summarize the "Consultants' battle".
The paint "SNEG" was purchased 17,896 times.
The paint "Goliafffffff" was purchased 15,484 times.
The paint "KALASH86RUS" was purchased 6161 times.
4158 tankmen bought more than one color. Thus they only increased the prize money. They do not participate in the prize sharing.
Total fan paints bought equal to 49,798.
calculations:
49,798 x 100 (price of each paint) = 4,979,800 – prize.
4979800 – 4000 (1st place) – 2000 (2nd place) – 1000 (third place) = 4972800 – prize winnings for the finalists.
4972800/6161 = 807.1417 = 807 crystals – for each wining consultant KALASH86RUS fan. Congratulations!
If you have not seen the fight, so please do watch it, the fight was recorded on our livestream channel.
In the Clan Competitions, Dare Devils scooped the amazing 150 000 crystals for coming first in the tournament. GCC came second and are
smiling with a 100 000 crystals in their pocket. And last but not the list third place was TTS getting away with 50 000 crystals.
More tournaments coming soon. If you are not in a clan, hurry and find yourself one or make one.
And in individual tournaments that is the plasma fights, CRAZIER met Wertweuri in the finals but managed to preveil as the plasma fights champion.
Congratulations to all this weeks winners, until next time.
SEE YOU IN THE BATTLE!
Follow your favorite blog column every week:
Monday – Free wallpaper day
Tuesday – Tanki week
Wednesday – Tanki's got talent
Thursday – Developers' News
Friday – Video guide
Saturday – Sports Review
Sunday – Comments of the week