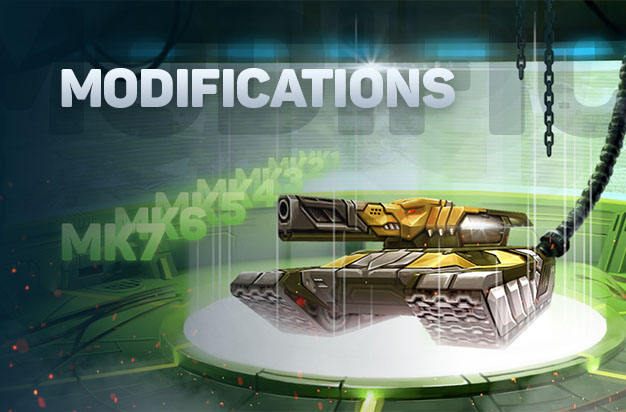 Tankers!
Yesterday, we released the update that increased the number of modifications from 4 to 7.
Now, instead of having M0, M1, M2, and M3, we have Mk1, Mk2, Mk3, Mk4, Mk5, Mk6, and Mk7.
You can find the full details in the official announcement further down. And if you want to see a detailed table of how the conversion happened, you can find it below.
Modification Conversion Chart.
However, there are some additional details you should be aware of.
About Modules
Modules have also received the conversion. In the process, all modules were unequipped from tanks. Therefore, the next time you log in, make sure you re-equip your favorite modules.
Equipment Kits
As a result of the conversion, Equipment Kits are now cheaper when purchased from the Shop Showcase in the new HTML5 version and the mobile version of the game, and may also be purchased for Crystals.
Note that the above DOES NOT apply to the Flash version.
in the Flash version, the prices have NOT been lowered, and Kits cannot be purchased for Crystals.
Check them out.
Tank Appearance
You have probably noticed that some modification levels now have the same appearance.
So, for the time being, we have four skins — the ones that used to represent M0, M1, M2, and M3.
And here's what they represent now.
М0 – > Mk1, Mk2
M1 – > Mk3, Mk4
M2 – > Mk5, Mk6
M3 – > Mk7
Eventually, we'll have only one basic skin, so your tank will start off with the best looking appearance, no matter what your Mk level is.
Of course, you can always change your tank's look with a skin from the XT, Legacy, Prime and Ultra lines.
For a more in-depth explanation, please check out ep. 236 of the V-LOG.
Maintenance on Ratings
On a final note, we are currently making some under-the-hood fixes to the ratings pages. Because of this, you might experience some issues with incorrect data. The system is expected to be stabilized by this Monday, January 20th.
So, if you haven't yet checked out the new modification levels, go and give the new system a spin and let us know what you think!
---
Tankers!
With tomorrow's (17th January) server restart, a very huge and important update will be released.
Equipment modification levels will increase from 4 to 7.
Here are some important points to keep in mind:
The current system is M0, M1, M2, M3. However, the new system will be Mk1, Mk2, Mk3, Mk4, Mk5, Mk6, Mk7;
The current M0 is equivalent to the new Mk1;
The current M3 is equivalent to the new Mk7;
As you can see from the point above, the additional modification levels will NOT be higher than the current M3. Instead, they will be distributed in the middle;
And in case you missed it, the "M' prefix is being replaced by the "Mk" prefix.
Why are we getting more modification levels?
For anyone who plays in the mid ranks, it's no secret that there's a significant difference in the ranks at which certain turret modifications are unlocked. This creates problems both with access to certain turrets, and with the advantage of upgrading some turrets/hulls over others.
These problems cannot be solved just by changing the rank at which a modification is unlocked. So our solution is to add 3 modifications to fill the gaps between the existing four.
Additionally, we know that many of you like to buy product kits, not just because they're great value for money, but also as a "ready-made tank" for battle. The same problem shows up here. Having just 3 modification levels limits the choices of kits available at every rank. And once you reach the end-game, there are even fewer kits available for Pro players.
Increasing the number of modifications makes it possible to offer a wider selection of kits for every rank.
What will happen to your current equipment?
All your turrets, hulls and modules will be converted to the new system. The modification you get depends on the current upgrade level of the item. The important point here, is that your gear will definitely NOT become weaker.
In order to buy the highest modification, you will need to buy all previous modifications. For example, if you are a Legend with a Railgun Mk1, and you want to buy the Mk7, you will need to buy all the modifications between Mk1 and Mk7.
On the flip side, you'll be able to upgrade in a more gradual manner. So, instead of suffering through battles with an underpowered tank just to hoard enough money for the BEST modification, you'll be able to upgrade constantly and stay competitive.
So right now you're thinking, "Uh oh, here comes the price hike!"
Wrong. No price hike.
What about prices?
This update will significantly affect both: at which rank you get access to higher Mks and prices. Modifications will be smoother while prices will stay near same. As for current M3 modifications, where prices will not change so much. All information related to prices will be available tomorrow in the game. Details on the wiki will be updated over the next few days.
Product kits
As discussed earlier, this update also affects Product Kits. These will be reworked for the new Mks system, and will be migrated from the Garage to the Shop. You will still be able to buy kits for crystals, but they will also be available for tankoins.
Here are two very important advantages you should keep in mind:
Product kits available for crystals and those which will be available for tankoins with discounts will be updated more often — each 12 hours.
The range of available product kits will become wider and more interesting.
Enter the game tomorrow and share your feedback in comments!
Discuss in the forum