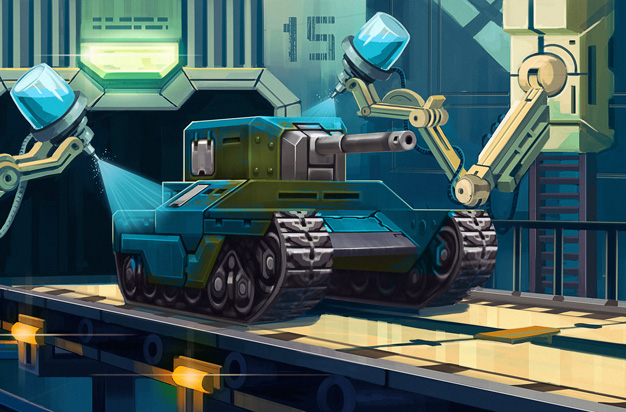 Tankers!
We're thrilled to announce that we've just released the very first animated paint in Tanki Online. The paint is called «Flow» due to the wavelike, swaying effect of its textures.
To celebrate this exciting new release, we're running a special event all weekend, starting from 02:00 UTC on July 8th, till 02:00 UTC on July 10th. Here's what you can expect during those 48 hours.
Special Animated Paint Bundle in the Shop
Besides being heavily discounted, this bundle includes the very first ANIMATED Tanki Online paint, which will make you the envy of every tanker in the arena (yes, this will also make them want to kill you more, but hey, that's the price for being cooler than anyone else).
NOTE: This special paint can be purchased within bundle only, that will be available in the Shop during 48 hours, from 02:00 UTC on July 8th, till 02:00 UTC on July 10th.
This special bundle will include the following:
The very first animated paint in Tanki Online
5 Gold Boxes
5 Days of Premium
500 of each supply
150 000 crystals
Discounts
Of course, any good celebration calls for discounts, and we're not going to disappoint you. Whether you like buying from our Shop, or from your Garage with your hard-earned crystals, we've got a discount to make you happy this weekend.
The full list with discounts and dates is on the forum.
So, have a great time playing Tanki Online this weekend and keep an eye out for fellow tankers wearing the new «Flow» animated paint — the very first of its kind in Tanki Online!
By the way, don't forget to visit the forum and tell us what you think of the new animated paint. Does it look cool? Would you like us to create more animated paints? Tell us in the official forum thread.
Discuss in the forum