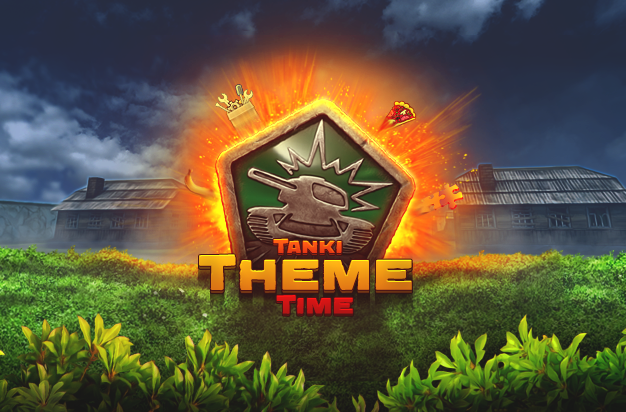 Tankers!
Are you ready for a new, fun challenge? Welcome to the Tanki Theme Time contest!
Every week, at a random time and on a random day, we'll be posting a special theme and hashtag on the official Tanki Online Twitter account.
From that moment, you will have a maximum of 48 hours to post a photo/image/video on Twitter, that combines Tanki Online with that theme.
IMPORTANT — You will need to include:
the official hashtag (as specified in the post for that week)
your in-game nickname
some way of showing that the video/image/photo you posted was created by you (this could be a piece of paper with your nickname on it, or maybe a graphical signature of sorts, included in your video/image/photo)
Our favorite entries will each be rewarded with crystals. Prizes will be handed out on the following Monday.
Important Details
Videos must not be longer than 30 seconds. Anything longer than that will automatically be disqualified — no exceptions.
Your entry needs to be posted not later than 48 hours after the contest post goes live. You have a full 48 hours. Anything past that will automatically be disqualified — no exceptions.
All content must be appropriate for ALL ages — adult content or themes (including sexual or violent content, alcohol, drugs or explicit language) are strictly forbidden and will be reported to Twitter administration, as well as disqualified.
The choice of winners will be solely at the discretion of the judges.
All contest decisions are final and cannot be appealed. If you don't win, just smile, shrug your shoulders and move on. There's going to be a contest every week, so you'll definitely get your shot.
Additional Details
In case of claims of stolen entries that have been picked as winners, ownership will be determined based on who presents the most convincing proof. If no clear owner can be determined, the person who posted the work first will be considered the owner, and rewarded accordingly.
Participants who are found guilty of submitting stolen works will be permanently banned from participating in the Tanki Theme Time challenge.
It is entirely your responsibility to make sure that your nickname and the hashtag are written properly in your submission. If you've written the hashtag incorrectly, your entry will be considered invalid. Likewise, if you've written your nickname incorrectly, we will not be able to reward you if your entry wins.
In cases where the contest is posted during the weekend, and the contest time frame overlaps with the next Monday, the prizes will be handed out on the subsequent Monday.
All submissions to this contest are subject to the terms of the game's EULA, which can be found here: http://tankionline.com/en/eula/
So, get ready! The first challenge is coming soon!
Discuss in the forum